As a bonafide soup lover, few things get me more excited for the impending cozy season than the knowledge that I will soon be eating this tasty dish on a near-nightly basis. I find myself making lists of the various seasonal vegetables I want to soup-ify in the weeks leading up to the unofficial start of fall (post-Labor day). Naturally, I already have a few special soups up my sleeve but I love to add more delicious ideas to my fall soup recipes collection.
Whether you're looking for indulgent and hearty, or clean and healthy, there is a soup for every occasion. And most are very customizable too, so you can use whatever veggies you've got lurking in the crisper. I also included a chili recipe in today's cozy mix because, in my opinion, chili absolutely counts as soup. I grew up eating a variety of Mexican soups like pozole, tortilla, and fideo, and was always wildly jealous of the kids who got to eat chili on crisp fall evenings. Few things are more warming, cozy, and joy-inducing!
So, be sure to bookmark your favorite recipes below, because we've got something for everyone, and they're bound to please even the pickiest of eaters.
Keep scrolling for 17 delectable fall soup recipes!
Why we love it: Despite the depth of flavor, this is a simple soup with a base of diced onions and apples. You can even add a splash of heavy cream or coconut milk to make it even creamier and more indulgent. Either way, it's divine.
Hero ingredient: Curry powder is the perfect spice blend—funky and savory in all the best ways.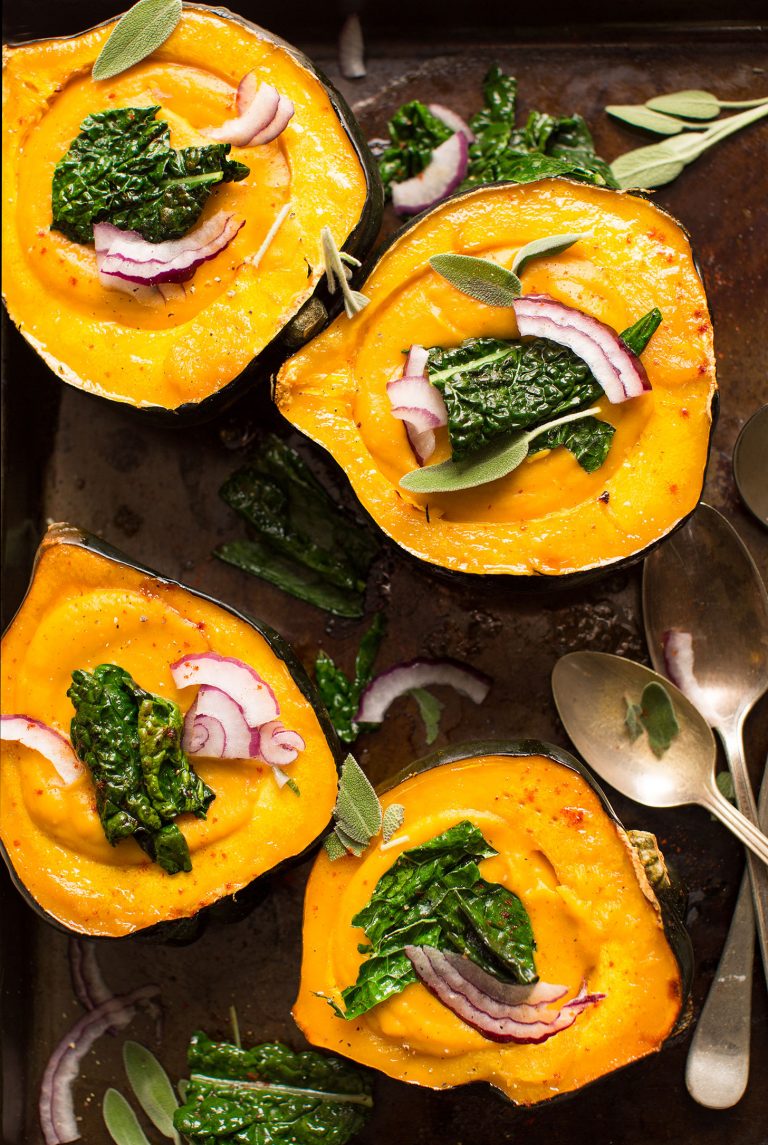 Why we love it: Okay, when was the last time you saw such a good-looking soup? It's as tasty as it is beautiful, whether you present it in squash bowls or not. It's also the creamiest, dreamiest, and easiest recipe ever.
Hero ingredient: Red lentils add a bit of protein and fiber to this nutrient-packed soup.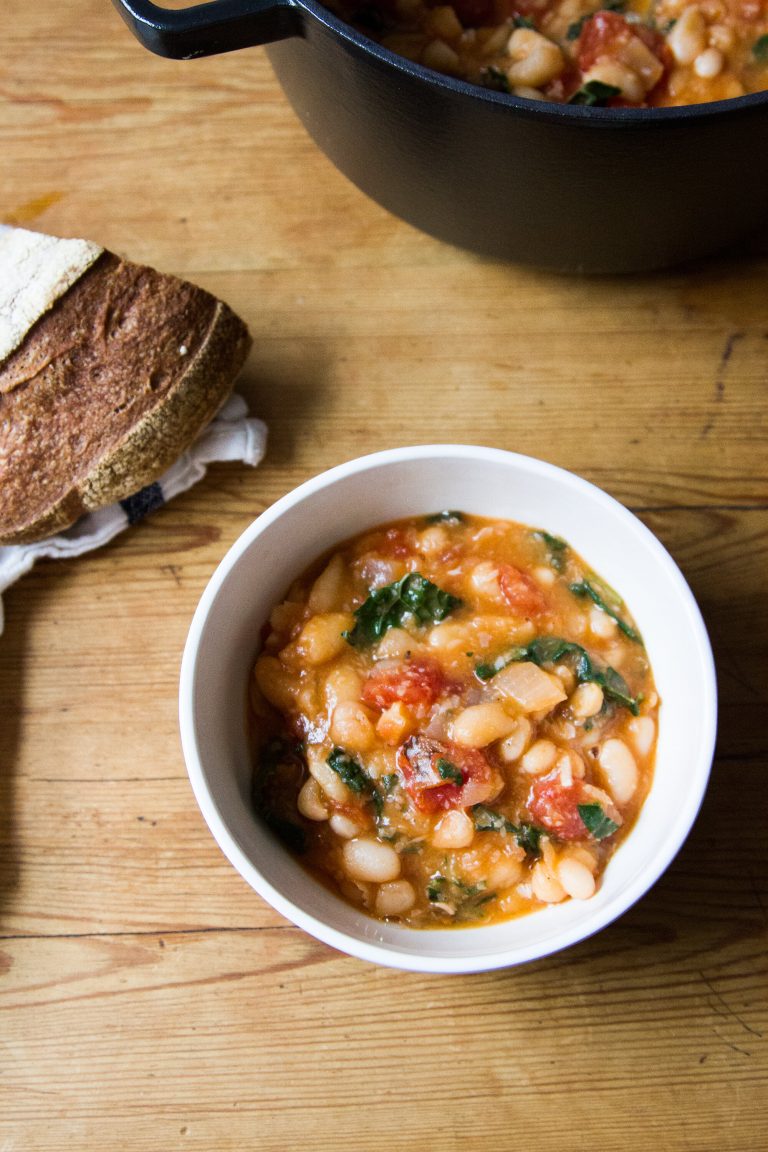 Why we love it: As Erin points out, the ingredient list for this soup is aggressively simple. It's also a wildly versatile and delicious recipe that comes together with just a handful of tasty, healthy ingredients. It's one of my favorite fall soup recipes.
Hero ingredient: Just about as much garlic as the body can handle.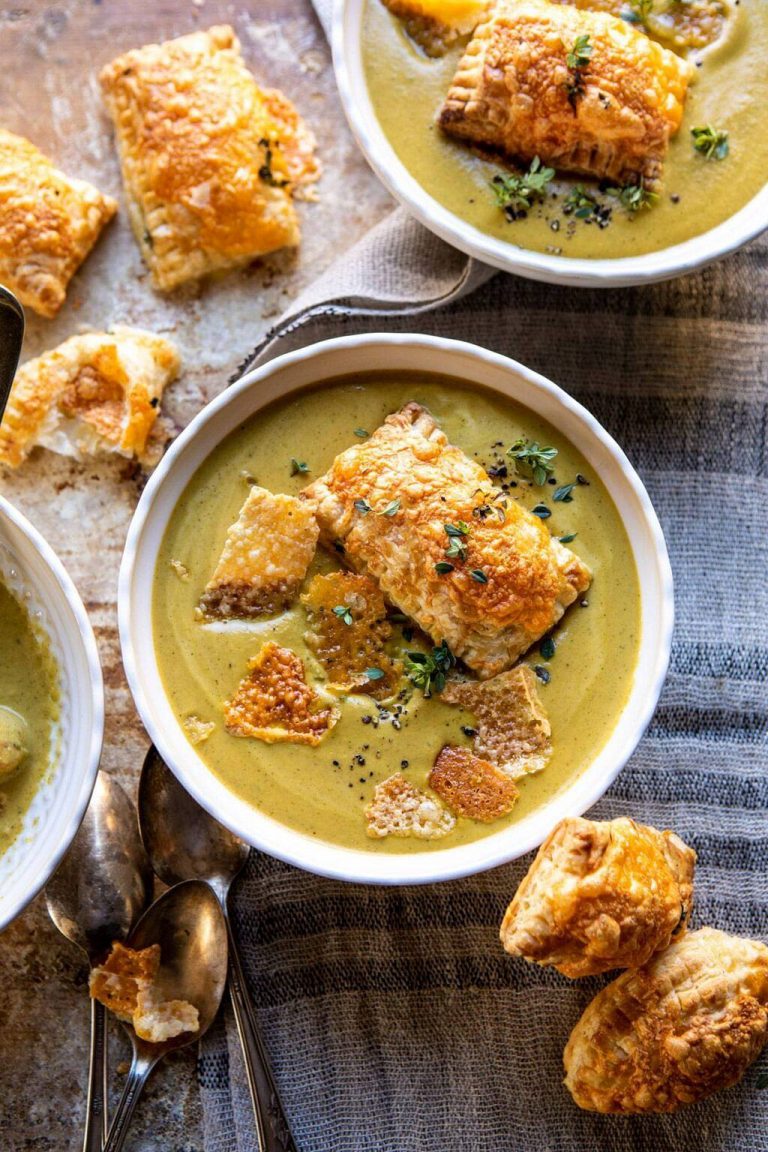 Why we love it: Can a soup be healthy and indulgent at the same time? Because this one happens to fit the bill. It's a comforting bowl of seasonal butternut squash, broccoli, and a bit of milk. It's a vegetarian delight topped off with a flaky brie and cheddar pastry.
Hero ingredient: Everything about this pastry topper is hero-worthy.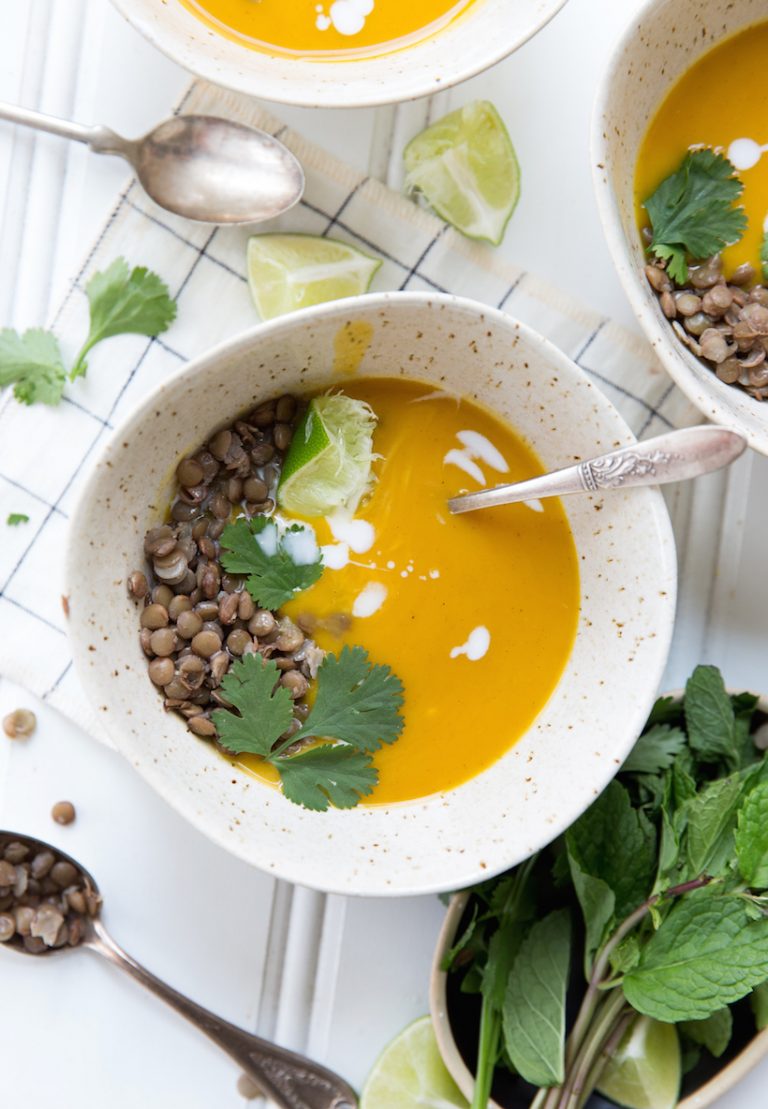 Why we love it: This vegan soup is basically "fall in a bowl" It's chock full of curry spices, warming winter squash, and a bright hint of citrus and fresh herbs. Yum!
Hero ingredient: The addition of coconut milk gives it an added layer of richness and creaminess without any dairy, and jives perfectly with the Indian flavors of the curry powder.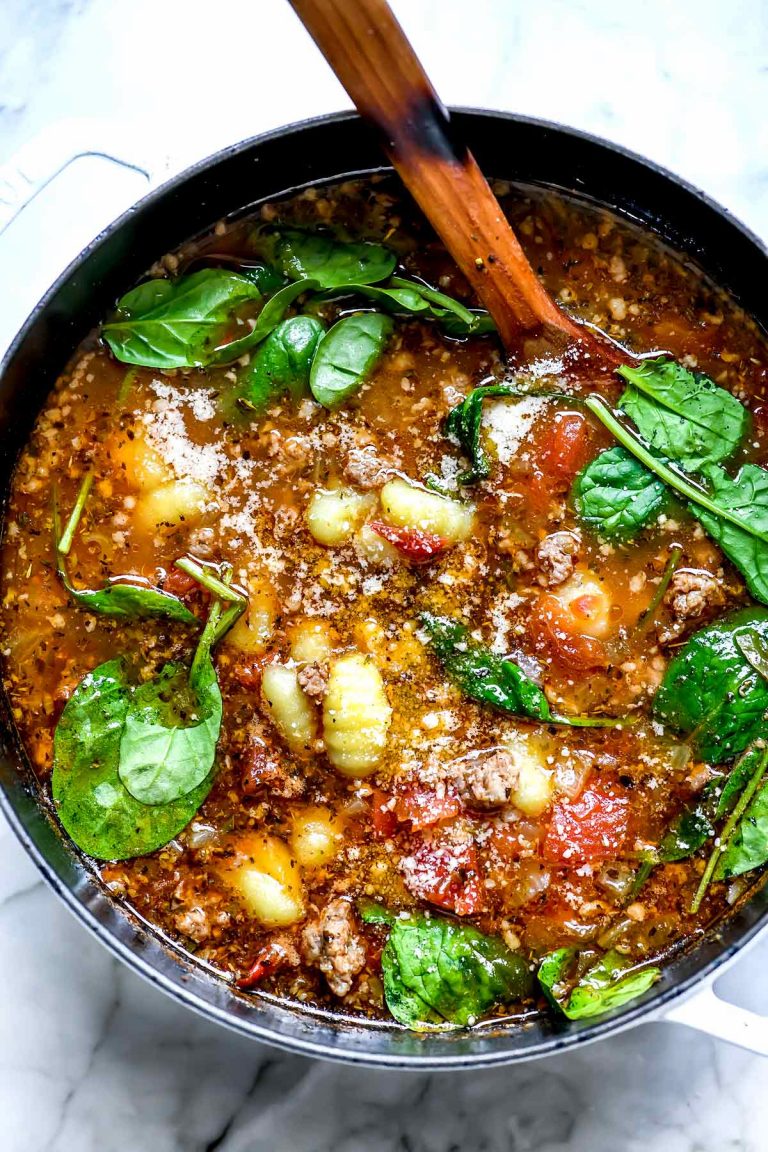 Why we love it: It's an easy recipe that calls for pantry staples you've likely already got on hand, and the delicious Italian flavors just can't be beaten. You can even make it vegetarian by using plant-based sausage instead of the real deal.
Hero ingredient: Gnocchi makes everything better.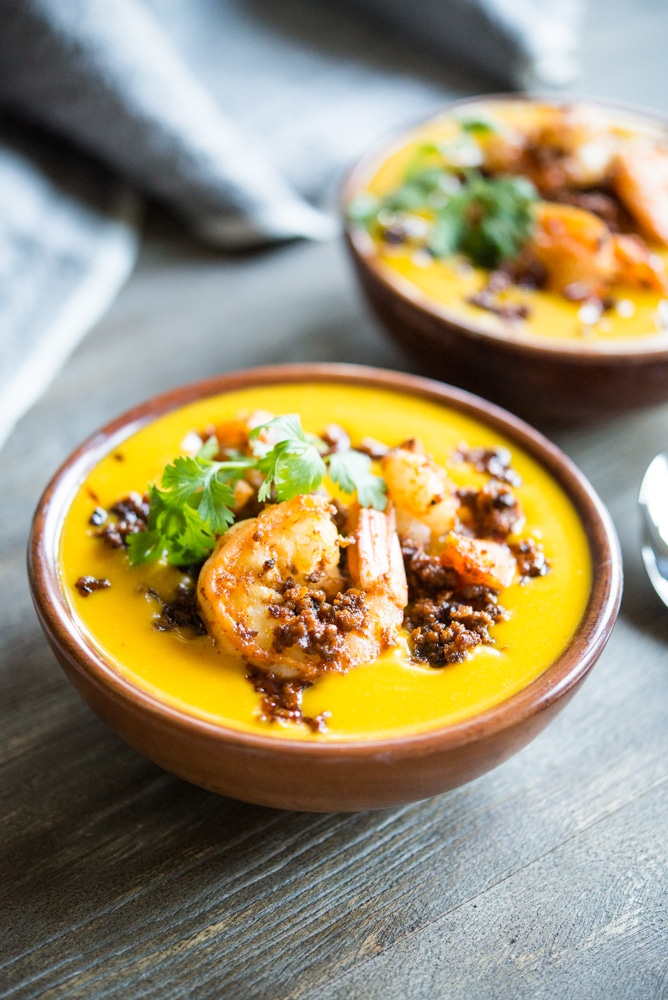 Why we love it: A paleo soup recipe that is creamy, filling, warming, and bursting with flavor and texture. It seriously hits the spot. The combination of the crispy chorizo and shrimp is a spicy treat that makes this soup a unique, original recipe.
Hero ingredient: The squish of lime brightens up the flavors even more.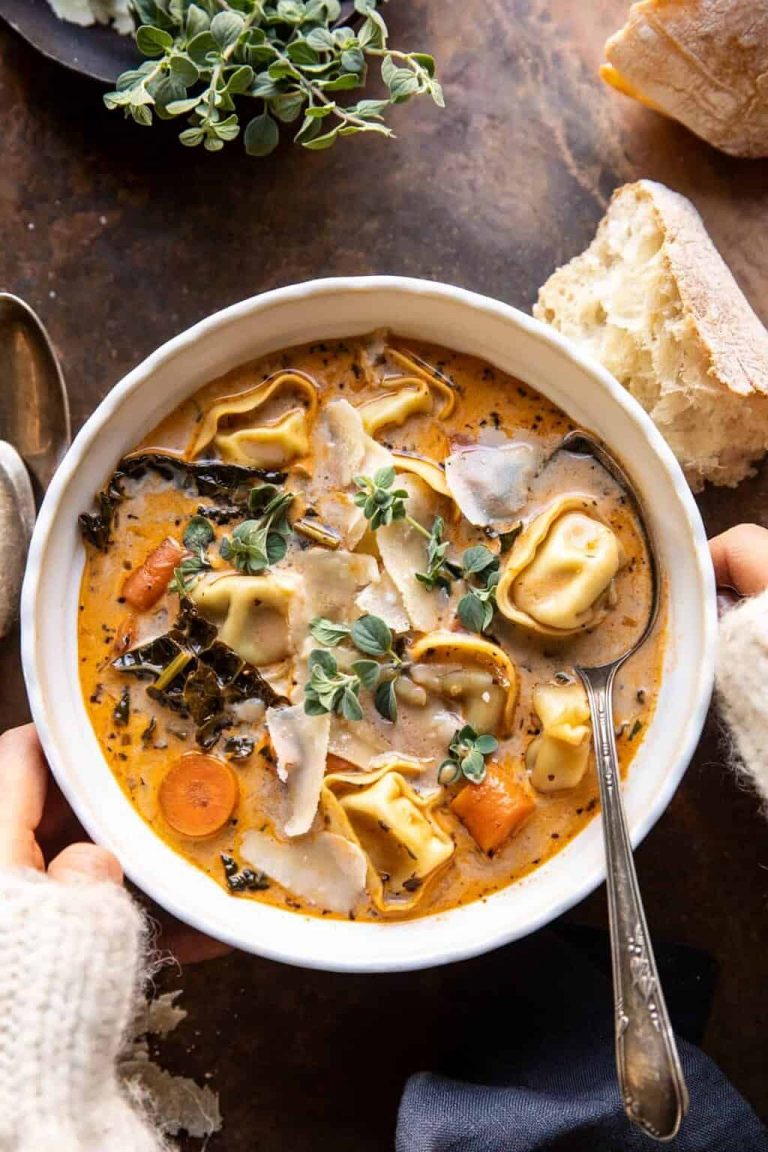 Why we love it: It's the perfect fall dinner when you're craving Italian flavors but want something on the healthy side. This is not your average veggie soup, it's creamy, cheesy, and incredibly flavorful. Just don't forget a sprinkle of cheese and the crusty bread.
Hero ingredient: Cheese tortellini makes it delicious, filling, and kid-friendly to boot.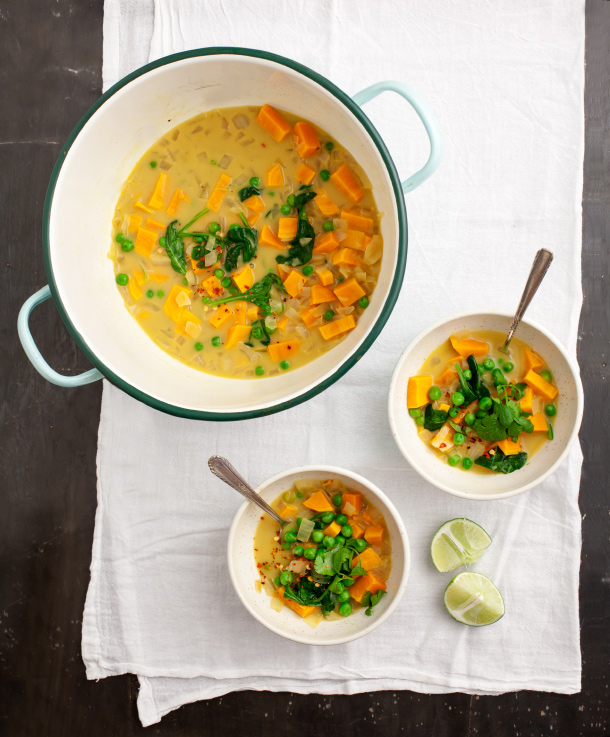 Why we love it: It doesn't get much easier than this lovely, simple soup. Curry gives it a delicious, earthy flavor—it's a crowd-pleasing soup that will warm the belly and soul.
Hero ingredient: Sweet potatoes do the heavy lifting here.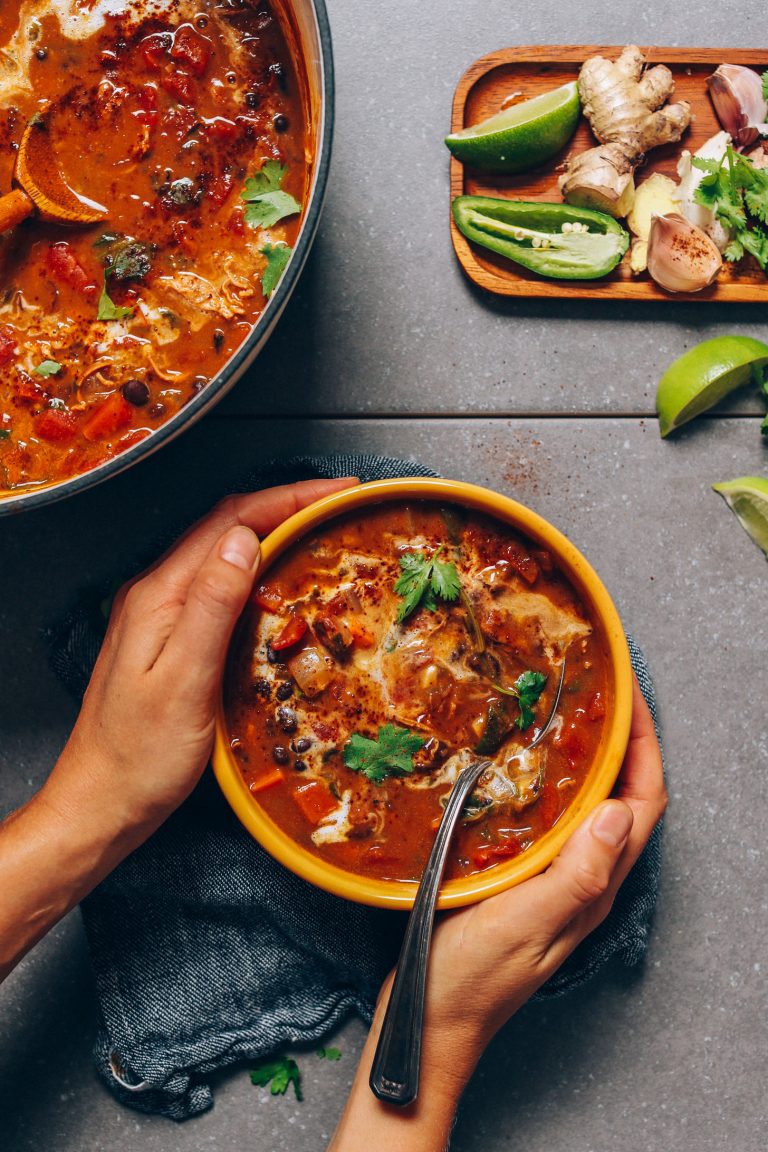 Why we love it: This is an incredibly flavorful, quick, simple, and customizable comforting soup. It's a fusion of Thai and Mexican flavors and is versatile with options for both meat-eaters and vegans. You can even bulk it up with rice or a grain of your choice.
Hero ingredient: Sweet potato adds texture and natural sweetness that complements the heat of the pepper and spices perfectly.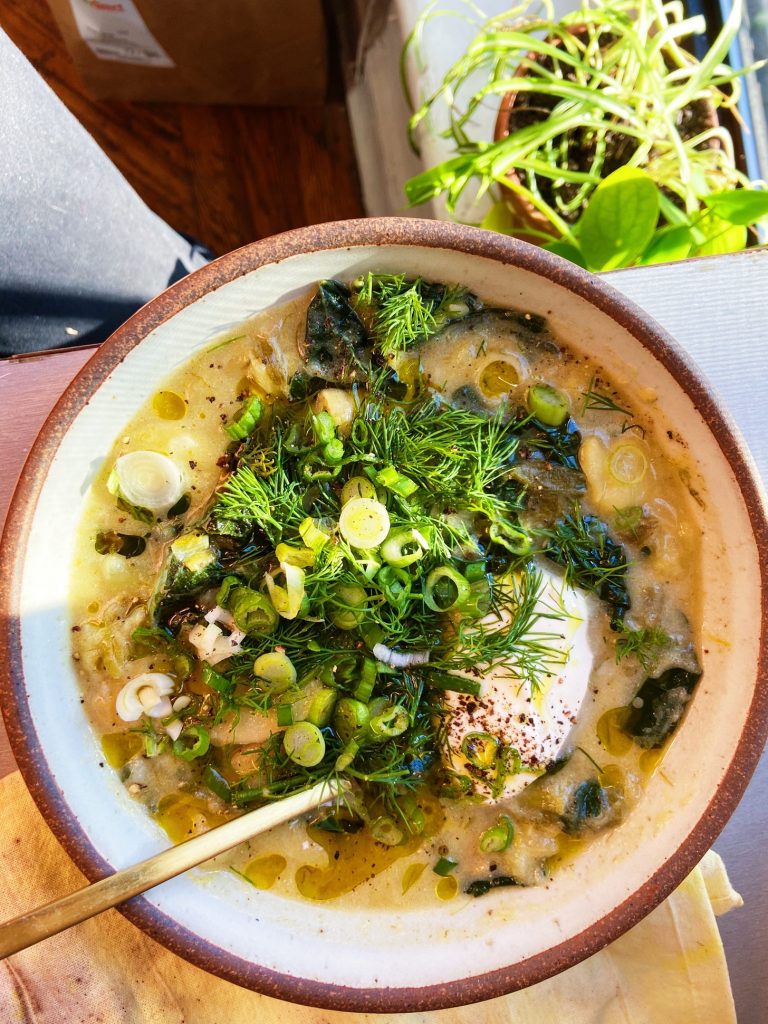 Why we love it: The first time I made this recipe, I was worried that this soup would be labor-intensive, mainly because I had never cooked with leeks before. But I'm pleased to report that it's as easy to whip up as it is bursting with rich flavors and textures. I can't get enough.
Hero ingredient: There's no such thing as "too much dill."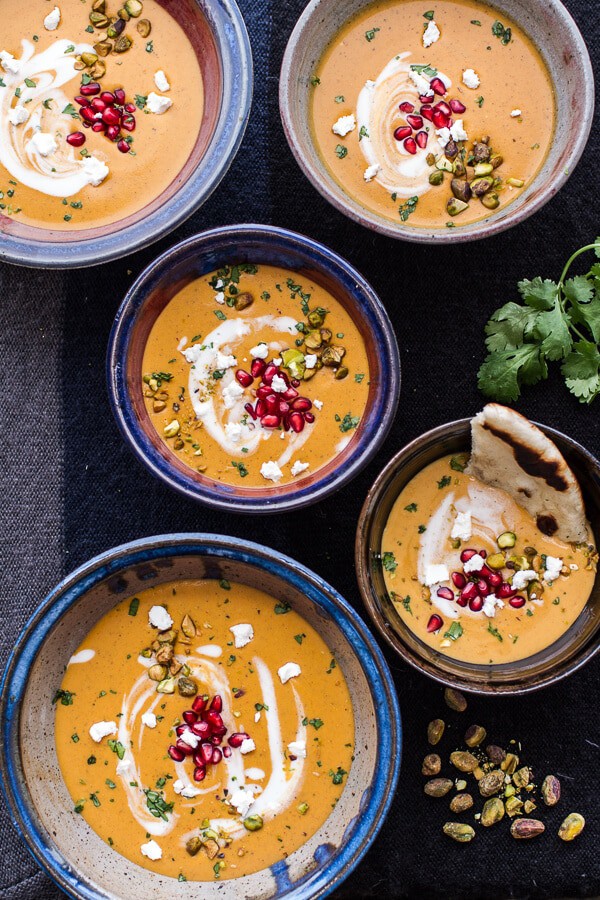 Why we love it: You're going to want to eat this soup daily. It's a flavorful, creamy, colorful, simple soup with a gorgeous texture.
Hero ingredient: Don't omit the roasted garlic!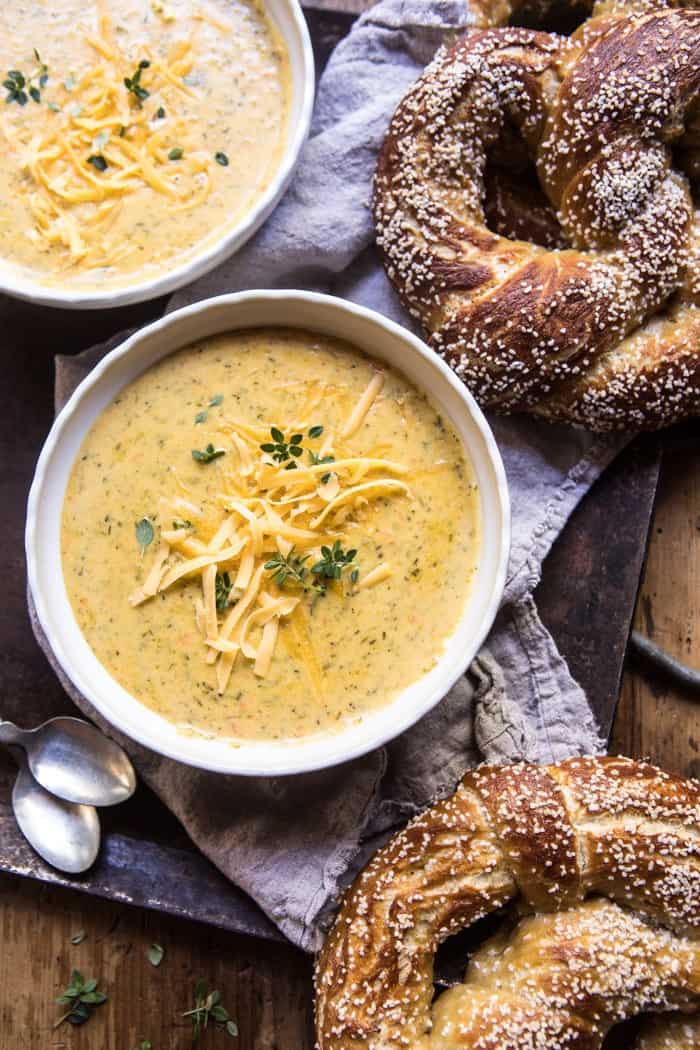 Why we love it: This healthy-ish soup is loaded with broccoli with a delicious hint of sweet pumpkin. It's got all your favorite fall flavors in one creamy, cozy, hearty bowl. You won't be disappointed with this one.
Hero ingredient: Pumpkin beer is a surprising addition, but its warming tones add so much.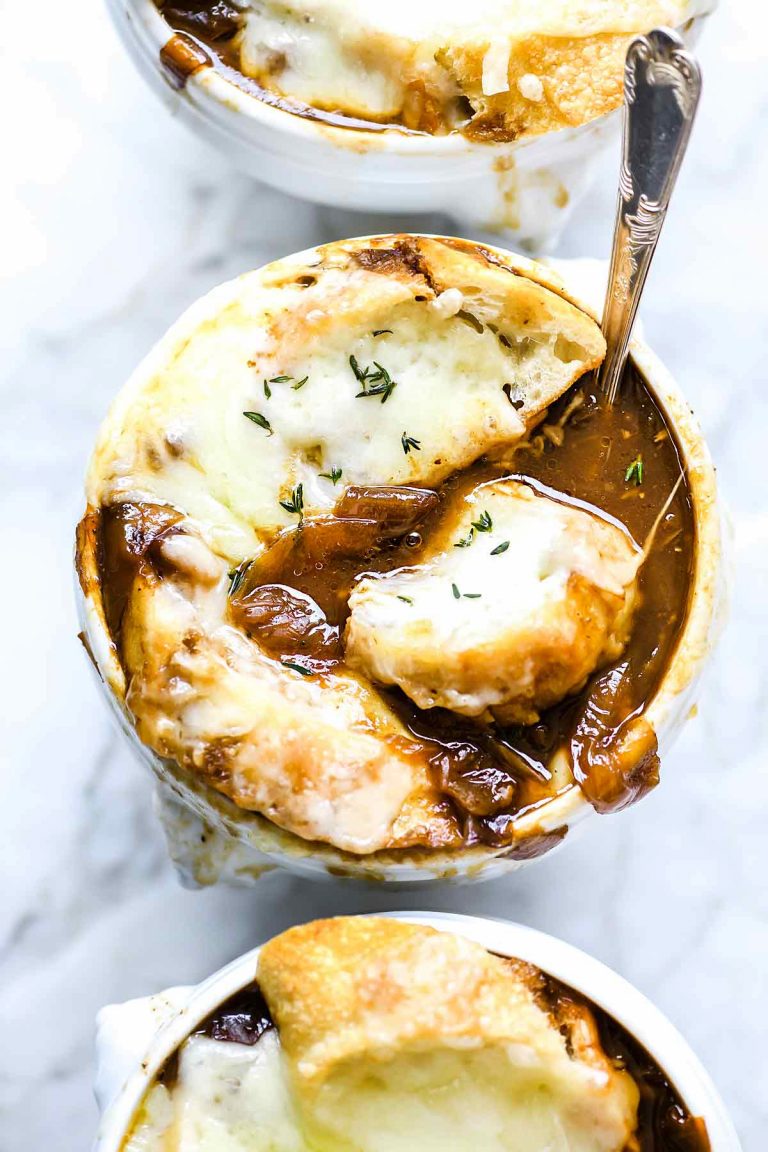 Why we love it: If you've always wanted to make a traditional French onion soup but felt too intimidated to try then this is the recipe for you. Its rich, decadent broth is loaded with caramelized onions and topped with melty cheese and bread toasts. I's worth the effort, and luckily, it isn't too much at that.
Hero ingredient: Cheese, of course. Take your pick from provolone, gruyere, fontina, mozzarella, or Monterey Jack. Or even better, combine two!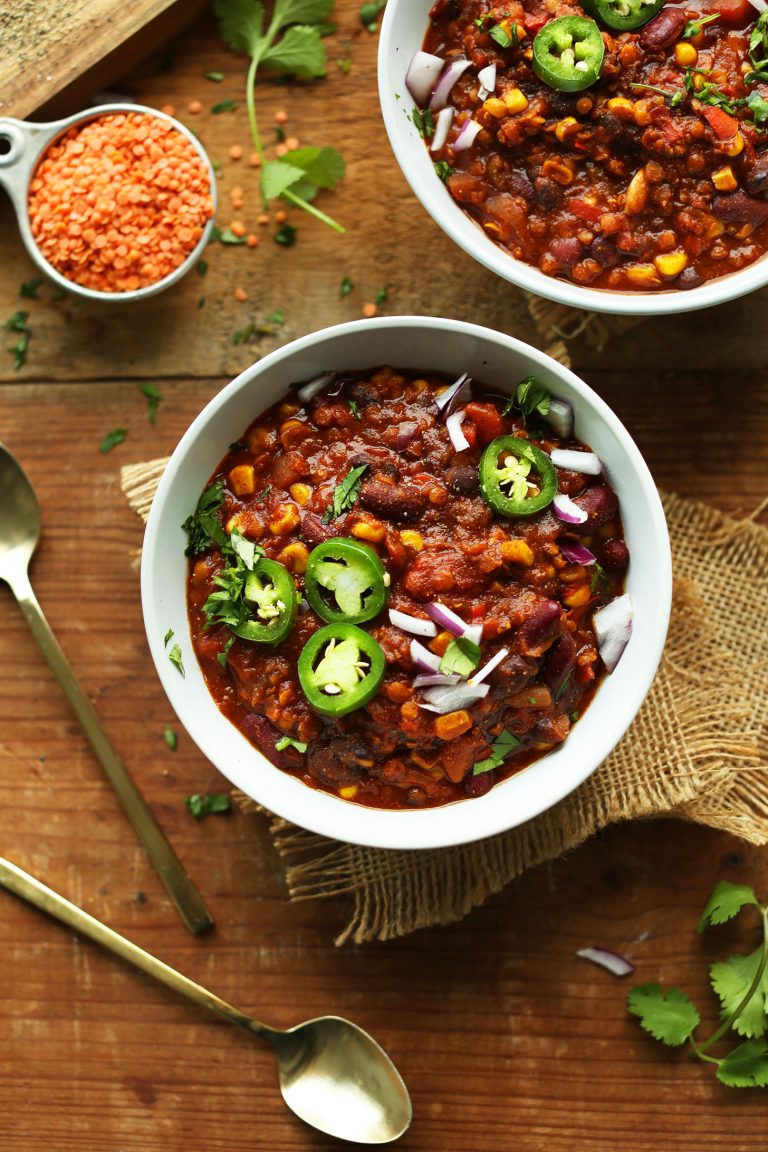 Why we love it: Get yourself this red lentil chili, stat! It's a gluten-free and vegan recipe that is guaranteed to be a crowd-pleaser. Red lentils, kidney beans, and black beans are full of nutrients like fiber, protein, and iron. It's as healthy as it is delicious.
Hero ingredient: Corn adds a ton of flavor and texture.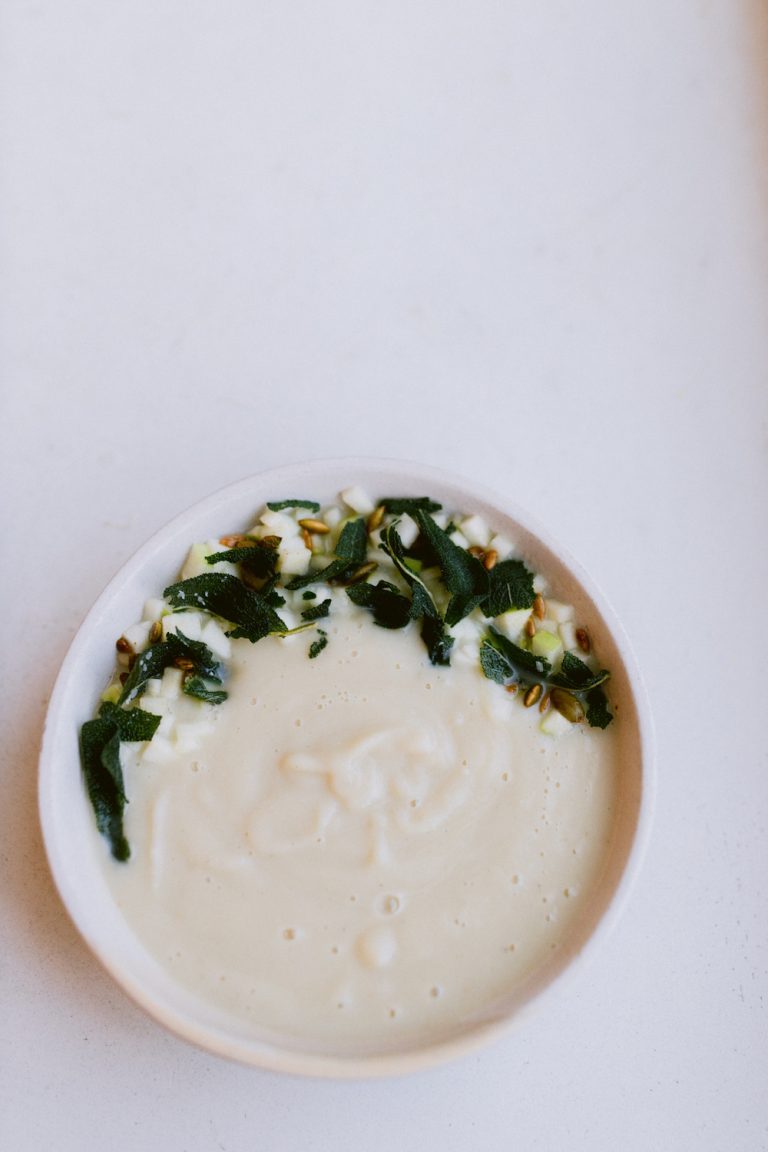 Why we love it: This recipe puts a delicious twist on your everyday cauliflower soup. The natural herbs and roots add a bold, satisfying flavor that is creamy, rich, and healthy.
Hero ingredient: Crispy sage elevates the entire experience.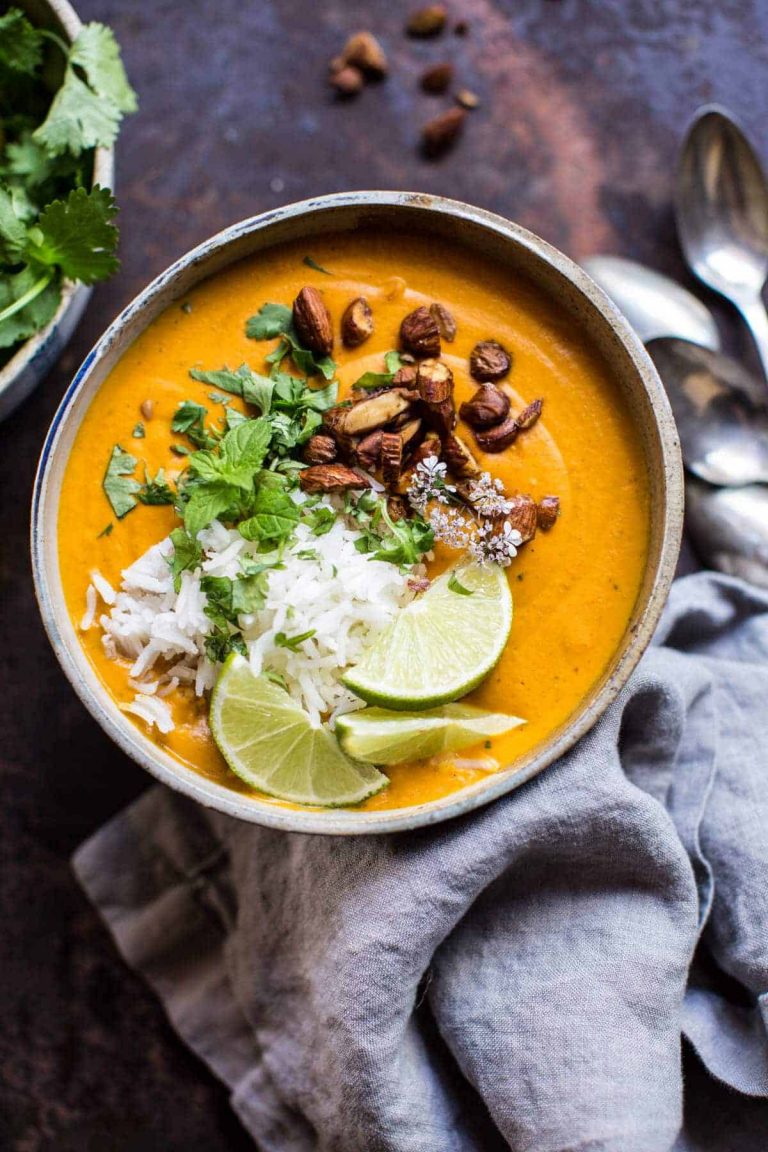 Why we love it: Almond butter makes this cream-less soup insanely creamy, smooth, and fabulously decadent. If you're craving Thai flavors then you're going to want to try this incredibly original, yet simple recipe.
Hero ingredient: Roasted tamari almonds.