[ad_1]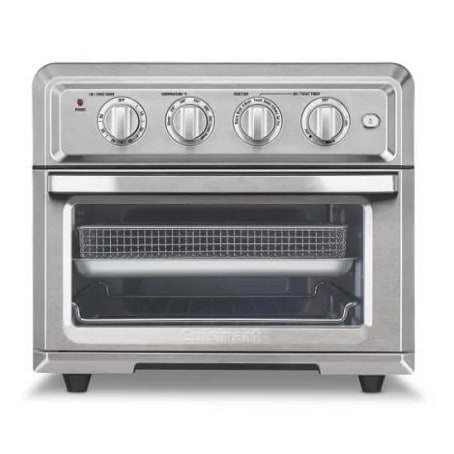 Let's talk air fryers! I was one of the many people who bought my first air fryer during the pandemic. I had been wary about buying one because of an old Wirecutter article that said the staff couldn't find one they could recommend highly (can't find the link now), but I was intrigued by April's CorporetteMoms post about her air fryer.
We ended up buying this Cuisinart model that is $229 at Amazon and Target, and we've been happy with it. It has multiple functions: air fry, convection bake, convection broil, bake, broil, warm, and toast! We have the regular stainless steel, but I loooove the navy option.
We haven't had the air fryer too long, and so far, I've only used it as a toaster and to bake and air fry frozen foods. (Uh, I'm not making much from scratch these days…) TBH, I don't even know what a convection oven is for…
Here's my list of pros and cons so far:
Pros:
It bakes things very quickly, so you can save a lot of time. For example, when I used to heat up frozen chicken nuggets for my son in our oven or toaster oven, it would take 35 minutes. When I air fry them, it takes about 10. (I think — I'm blanking on the exact time. This brand gets perfectly crispy.) When I bake a frozen pizza (we love Amy's and Half Baked Pizza), it takes half as long, and it seems to bake the pizza more evenly than a regular oven.
When it's summertime and you don't want to heat up your kitchen too much, this is much better than a full-size oven.
It toasts bread very evenly — better than our toaster oven did, I think.
Some frozen foods now have air fryer directions on the package, so no guesswork needed! I air fry these garlic parmesan frozen zucchini fries (so good, and zucchini is the first ingredient), and they come out nicely browned and crispy. (Yeah, someday I'll actually make my own.)
I like how the bottom tray easily slides out so that you can clean out crumbs, pieces of melted cheese, etc.
Cons:
This thing is big — so if you don't have much counter space, you might want to think twice. We got rid of our toaster oven and put the air fryer in the same place, but it's much taller.
Sometimes it bakes things a lot more quickly than you'd expect, and there's definitely a learning curve. When using the oven function, I've burned some things before realizing that I need to keep a close eye on them and bake for less time. Sometimes I also turn down the heat a bit. (I also use our microwave timer or my phone timer instead of the built-in non-digital timer, just to be more precise. You have to use the timer unless you're toasting, but I just turn it to a random time that's longer than I need.)
It really does not do well with cookies. When I've tried to make them from refrigerated dough, the outside gets very brown and almost burned while the inside still needs several more minutes. I mean, hey, I'll eat them anyway, but a regular oven works much better.

It puts out a lot of heat! The metal knobs on our cupboards above the air fryer get hot, in fact.
Finally (who knew I could write so much about air fryers?!), here are Kat's thoughts on hers (which she bought after April's Ninja air fryer review on CorporetteMoms, even though she already had a convection toaster oven):
I've experimented with breakfast egg rolls (meh), dessert egg rolls (meh), TikTok air fried pasta (meh) and salmon-air-fried-directly-from-freezer (delicious!). The kids really love plain air fried chicken. I made the Skinnytaste chicken sandwich, which was a lot of work and tasted OK but still kind of meh. So I'm still on the hunt for better recipes.
Readers, do you have an air fryer, and would you recommend it? What are your favorite uses for it?
Workwear sales of note for 9.14.21…


[ad_2]

Source link