[ad_1]

This easy recipe for feta dip is quick to make, takes only minutes to prepare, and doesn't require many ingredients. This is a crowd favorite appetizer for parties or Game Day!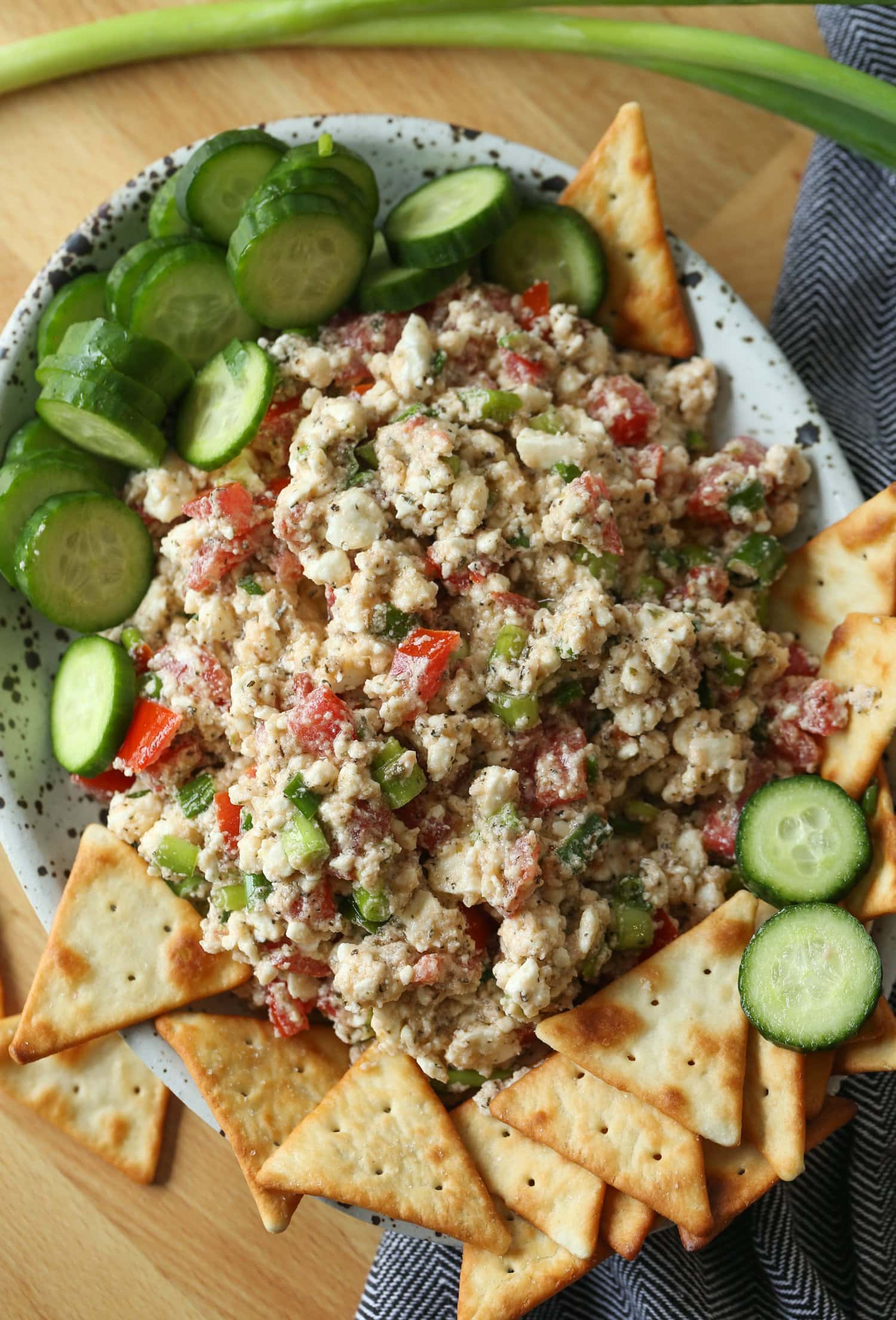 This Easy Feta Dip Recipe Is a Go-To Easy Appetizer Idea!
I am ALWAYS looking for easy appetizers to make. Whether it's for an impromptu happy hour, a Game Day party, or a snack to enjoy any night of the week, this Feta Dip has become my absolute favorite. Although it's not the prettiest dip you will ever see, it makes up for that in the flavor punch it packs. You only need five ingredients, and it takes just minutes to make. Plus, as much as I love this recipe as-written, there are tons of ways you can make it your own and play around with add-ins!
Why I Love This Recipe:
Minimal ingredients and less than 10 minutes to prep!
Naturally low-carb/keto friendly
It's a cold appetizer, which I prefer when I'm bringing food a party. you don't have to worry about keeping it warm, or reheating!
So much flavor is packed into a very minimal recipe.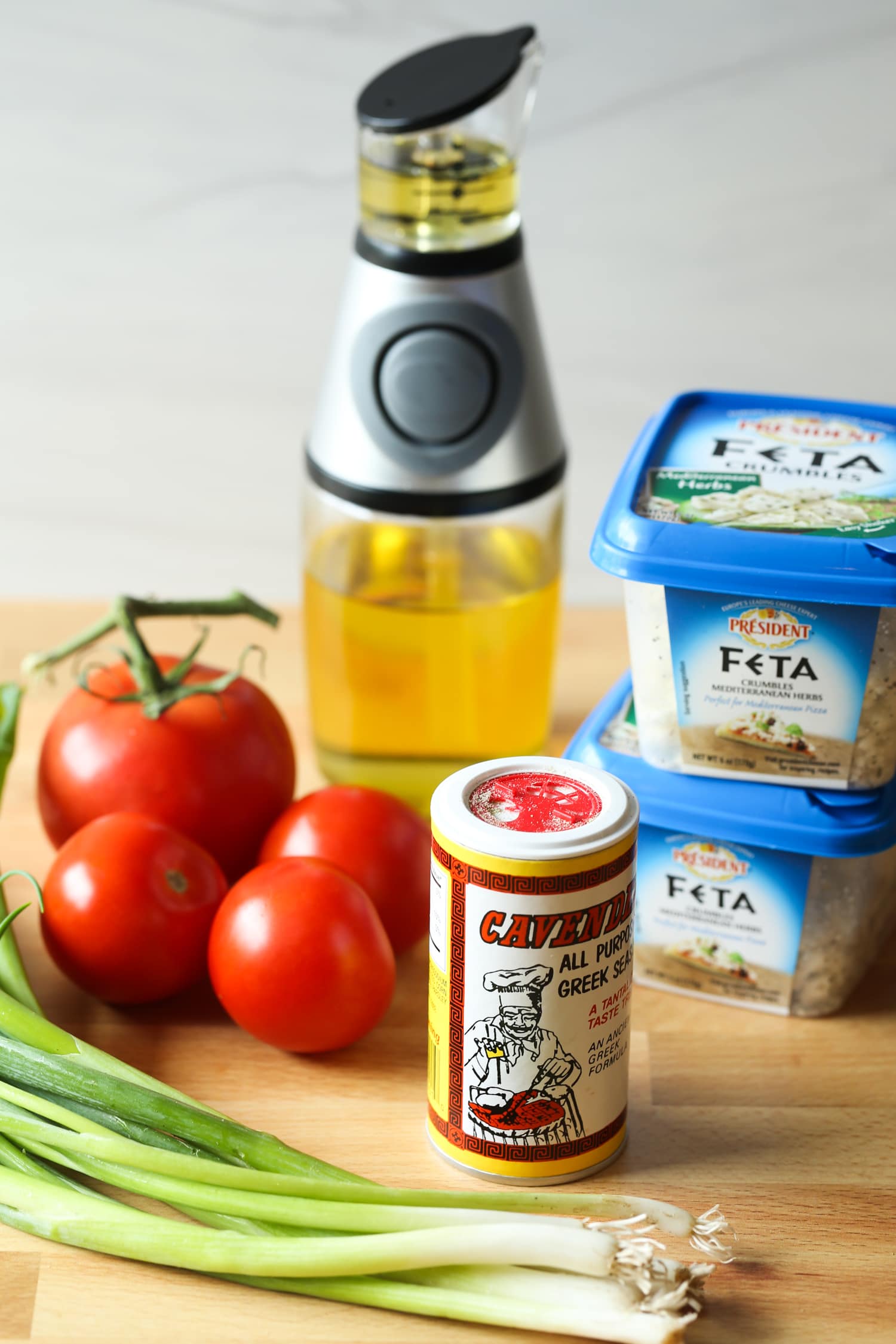 Greek Feta Cheese Dip Ingredients:
Feta cheese crumbles. You can certainly buy a block of feta cheese and crumble it yourself, but I like to buy it pre-crumbled strictly for ease! The point I keep making with this dip is that it's easy! Also, I REALLY like to use the pre-seasoned feta cheese (Mediterranean Herb) because it's a simple way to incorporate more flavor without the work. This isn't necessary at all, though, you can use plain Feta and it will work great. I do it both ways, but I do prefer the pre-seasoned if I HAD to choose!
Olive oil. You can use light olive oil or extra-virgin olive oil…it's up to you and your taste preference! If you like the flavor of extra virgin olive oil, use that! You use a good amount of olive oil in this recipe, so the flavor does come through.
Fresh tomatoes. You can use whatever type of tomato you prefer, Campari tomatoes are delicious in this. I seed my tomatoes as I dice them because you don't want the seeds in the dip. YDOn't worry about being exact (this is easy, remember!!) but you just don't want the wetness of the seedy potion of the tomato in the dip. You could even use grape or cherry tomatoes too!
Green Onions. I am not an onion fan, but green onions are delicious in this recipe and you shouldn't omit them. Even you are a big onion fan, you could even add small diced red onion, but I think lots of chopped green onion is perfect!
Greek Seasoning. don't let this ingredient trip you up. I use the Greek Seasoning, Cavender's because it's easy to find at my local supermarket. But you can use any brand you can find. Konriko is another brand I have seen too. I believe McCormick even makes a Greek seasoning blend too!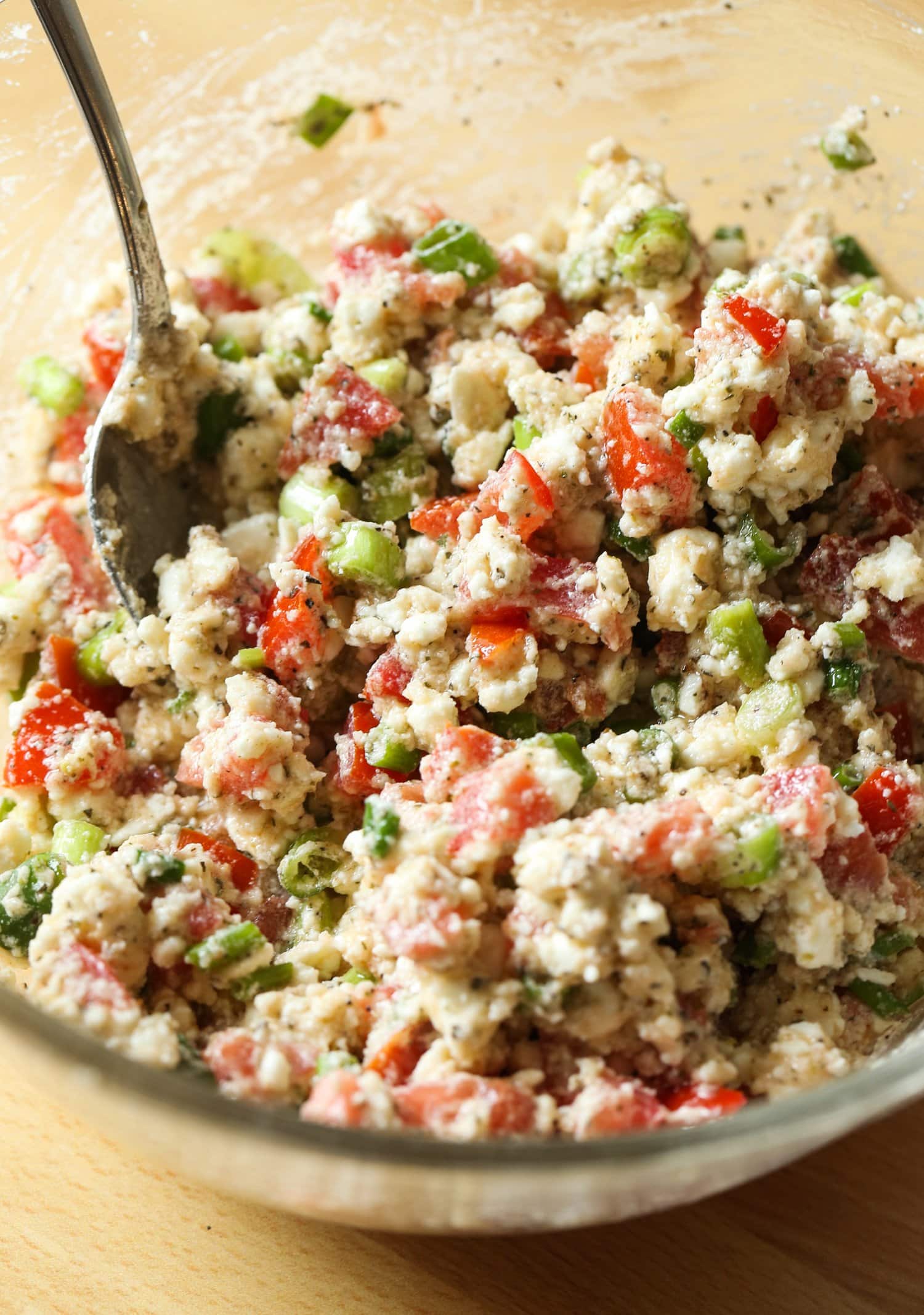 Easy Instructions/How To Make It:
Dice and seed the tomatoes, chop your green onions.
In a bowl mix together the feta cheese, olive oil, and greek seasoning. 
Stir in the tomatoes and green onion and transfer to a pretty serving bowl or platter. 
Arrange your pita chips or veggies around the dip and sprinkle on a few more green onions and drizzle a tiny bit more olive oil on top to look pretty. 
Serve and enjoy!
What If You Can't Find Greek Seasoning?
No problem! You can easily make your own Greek seasoning blend at home! Just mix together these spices and store airtight:
3 tablespoons dried oregano
2 tablespoons dried basil
2 teaspoons dried dill
1 tablespoon garlic powder
1 teaspoon kosher salt
1 tablespoon ground black pepper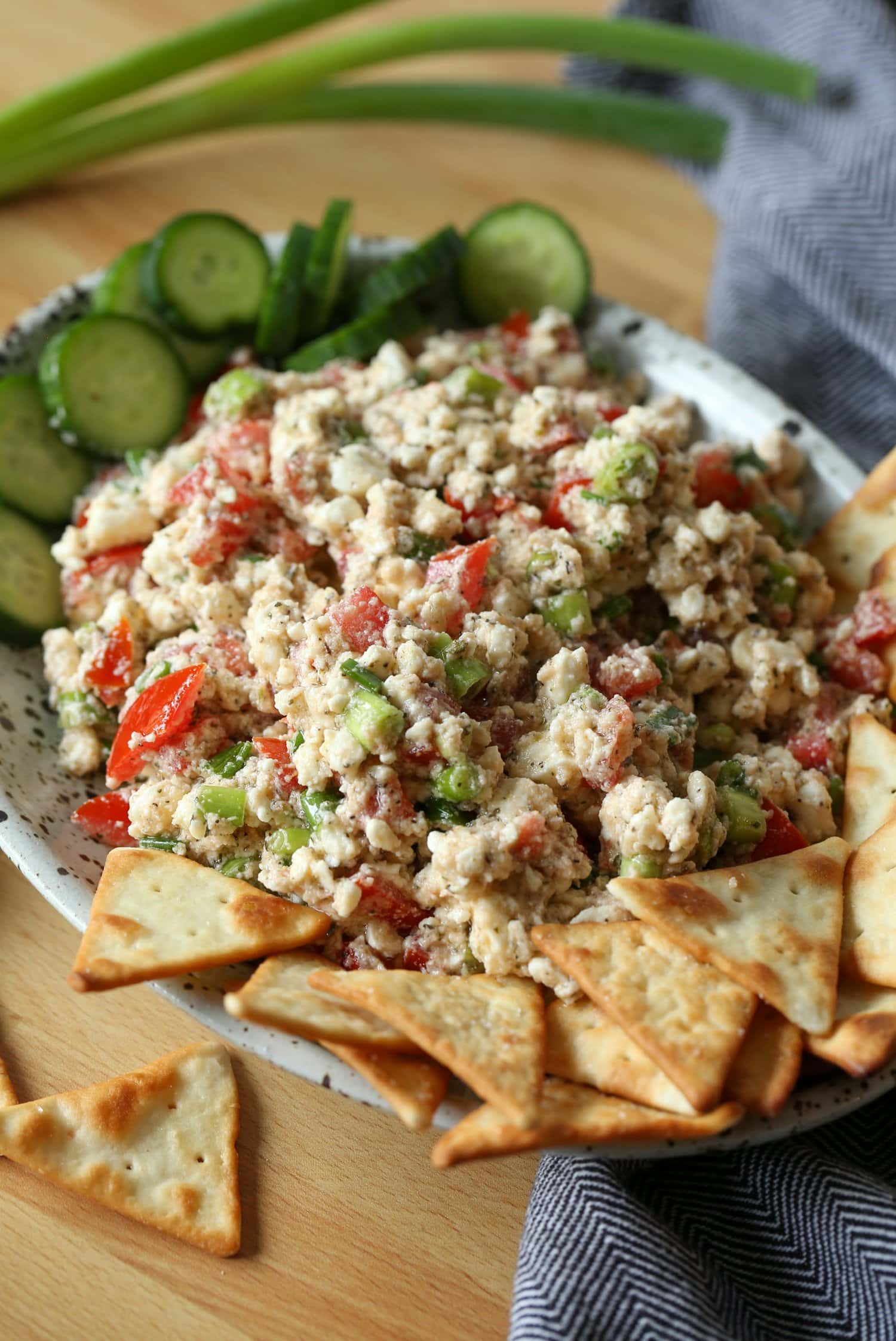 What To Serve With This Feta Dip:
You can serve this dip with just about anything you like to use to dip! Here are a few of my favorite ways to enjoys this:
Pita chips. This is an obvious and easy way to serve feta dip. Plus, they're delicious! 
Pita bread. You can cut up some fresh pits bread and serve it on that as well as the chips…love eating it this way!
Fresh veggies. Cucumbers, celery, baby carrots, bell peppers…this list goes on and on! This is a great dip to serve along side a veggie platter or crudités. 
Baguettes. You can slice up a baguette, toast it, and spoon the dip right on top like little bruschetta.
You can even use this dip as a delicious sandwich spread or spooned on top of a chicken breast!
Do You Serve This Feta Dip Warm or Cold?
The beauty of this dip (in my opinion) is it is served cold. This is a unique and different cold dip that isn't "the usual". Plus, not having to worry about keeping a dip or appetizer warm when you're traveling to a party or tailgating is a HUGE bonus in my opinion!
My Tips:
I like this recipe because you can enjoy it as soon as it's made. You don't need to let the flavors combine, but you certainly can make it in advance! I think it's "prettiest" when served the same day.  And taste this as you're making it and alter the seasoning to suit your preference!
Variation Ideas:
Spice it up with some red pepper flakes!
Squeeze some fresh lemon juice in with the feta for a bright citrus layer of flavor.
Add in some black or kalamata olives for a delicious addition.
Add a minced garlic clove (or two) to really amp up the garlic flavor!
Garnish it with fresh parsley too to add a little more color.
Can You Make Turn This Into Whipped Feta Dip?
Yes you can! In your food processor or blender, whip up your feta, Greek seasoning, and olive oil for 3 – 4 minutes until blended! You can then stir in your tomatoes and green onions!
What Is A Good Substitute For Feta Cheese?
Here's the deal, this is Feta Dip, so if you don't like feta cheese, this might not be the dip for you. But I will say even if you don't think you like Feta, this is worth a shot…it's just THAT good! BUT if you want to get creative with this dip you can sub out HALF of the feta for other cheeses:
Goat cheese. This is an easy way to make this dip creamier without whipping it. Goat cheese is a very creamy cheese and you can sub in half goat cheese for half the feta and it will make it tangier and creamy.
Cojita cheese. You have to like the flavor of cojita, but the textures are very similar!
Cream cheese will work with this but the mixing method will change. Bring your cream cheese to room temperature mix it until it's creamy with the greek seasoning and olive oil to combine. Then stir in the feta, green onions and tomatoes. This changes the texture of the dip, but it's good!
Cottage cheese can be used in this recipe for half the feta as well. This will make it very creamy and you will need to use less olive oil.
Grated mozzarella. There's no reason this wouldn't work!
Is Feta Cheese Good For A Keto Diet?
Yes! Feta is great for a Keto/low carb diet. In fact this recipe served with certain vegetables is prefect for a low carb option!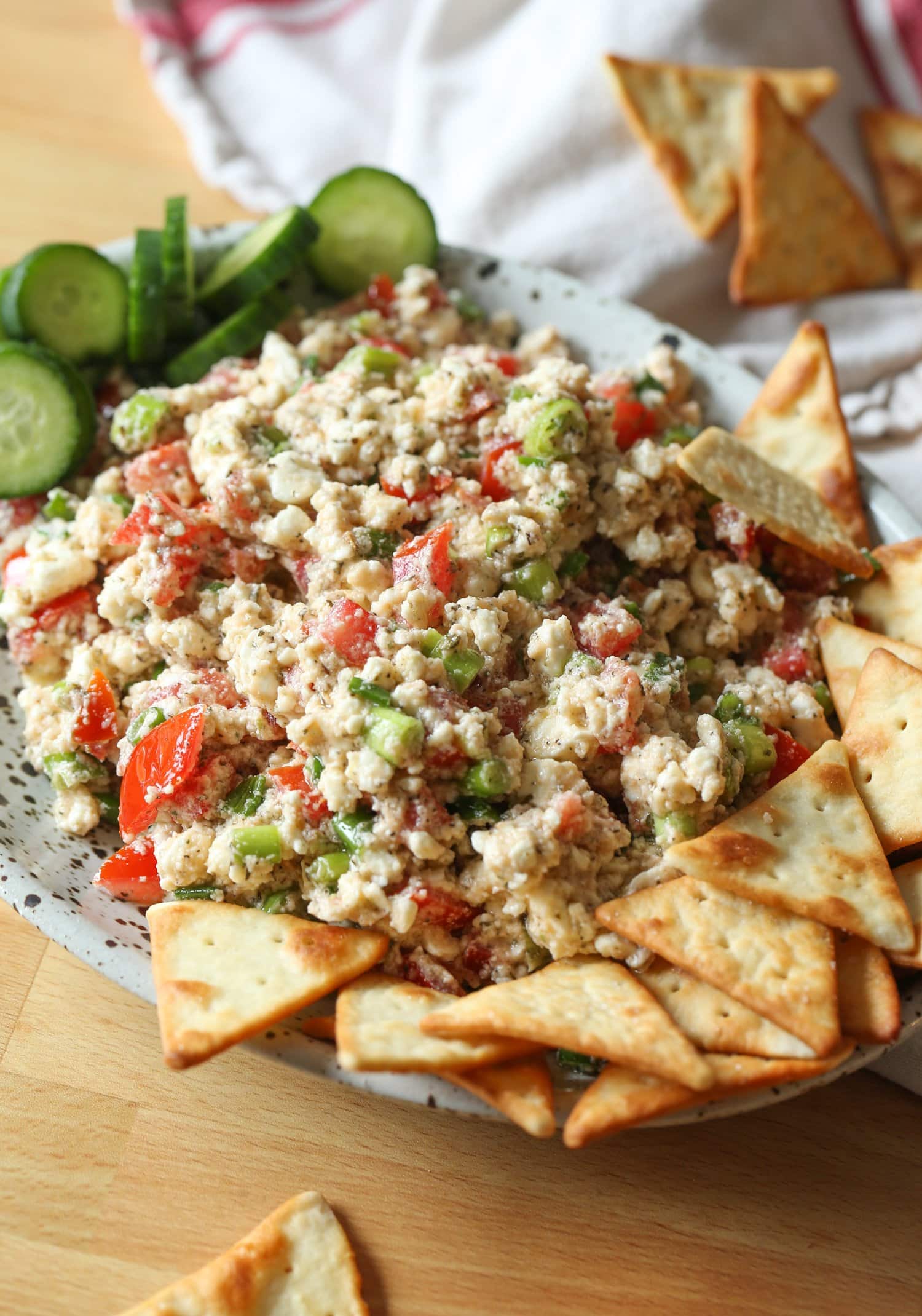 Looking For More Dip Recipes? Try These:
---
Description:
This simple and quick Feta Dip is going to be your new go-to easy appetizer!
---
Ingredients:
1 1/2 cups

seeded and diced tomatoes (about

3

medium)

2/3 cup

sliced green onions (about

5

–

6

large)

3 teaspoons

Greek seasoning (if using herbed style use

2 teaspoons

)

2/3 cup

olive oil

2

(6- ounce) containers crumbled Feta cheese. (I like to use the Mediterranean herbed style)
optional – balsamic glaze
---
Instructions
Combine the diced tomatoes, sliced onions, Greek seasoning, and olive oil in a large bowl. Stir to combine.
Add in the Feta cheese and sit to incorporate.
To Serve: Transfer dip to a shallow bowl or serving platter and arrange pita chips, or sliced vegetables around the dip. Drizzle with balsamic glaze,  if desired.
---
Notes:
Store airtight in the refrigerator for up to 3 days.
Optional additions I like: Kalamata or black olives, minced garlic, and/or red pepper flakes.
Keywords:: cookies and cups, appetizer, feta dip, quick and easy, game day, no bake
Want To Save This Recipe?
PIN for later: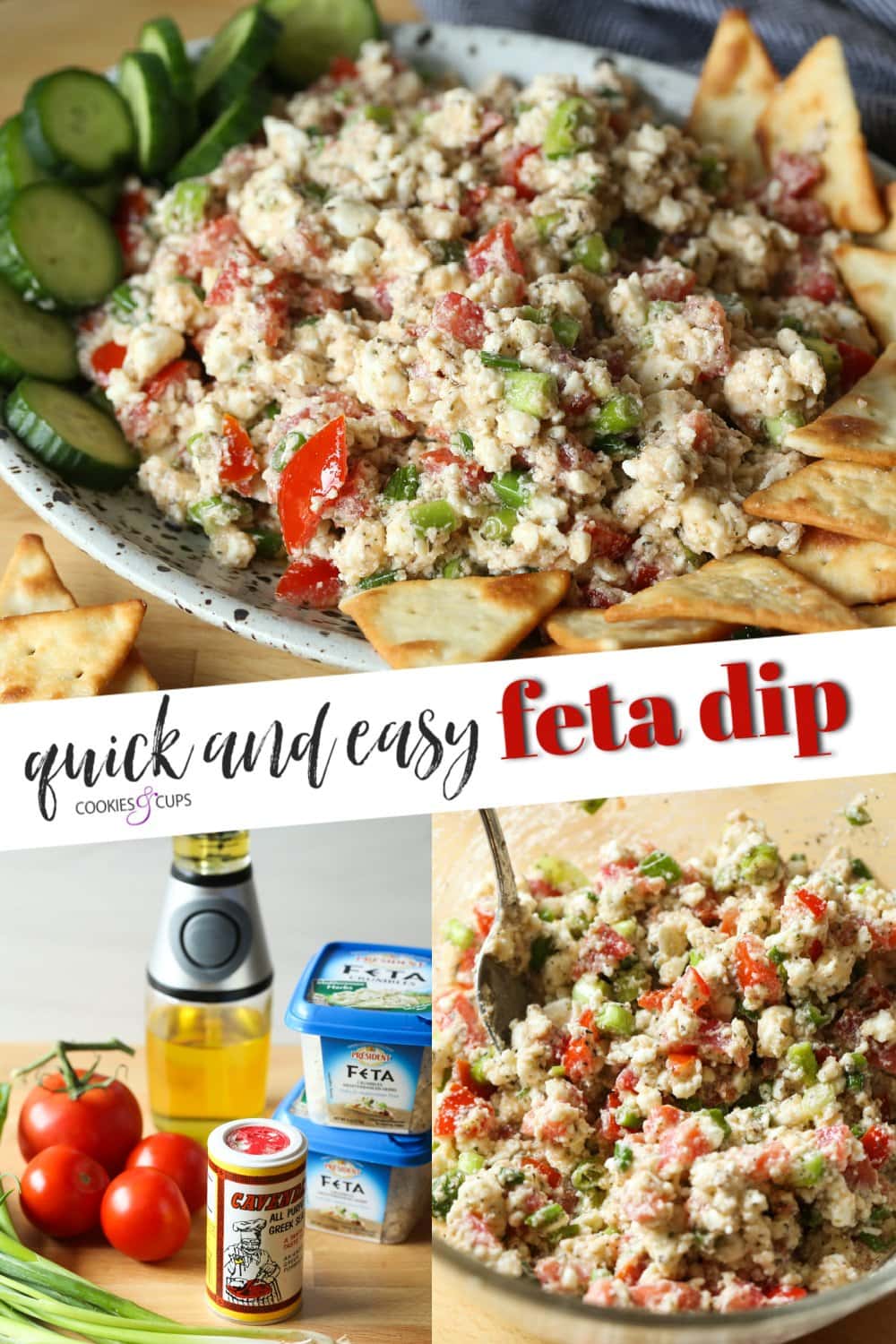 [ad_2]

Source link