After a season of indulgence (ie. post-holiday, post-vacation, or just a restaurant bender), have you ever felt like you want to do a juice cleanse all day? Yeah, me neither (lol) but I've certainly experienced many a time when my body has told me it needs a reset and my digestive system needs a serious break. When that feeling strikes, I often head to the stove and put on a pot of this vegan butternut squash soup—and I frequently double the batch so I have plenty of leftovers to cover lunches for the whole week.
When it comes to a "soup cleanse" situation, a comforting puréed vegan soup recipe is where it's at. The blender's already done the work for you, giving your digestive system the rest that it needs. That said, I'm not about to eat a meager cup of puréed blandness for a single lunch, let alone lunch for a week. I need my soup packed with so much flavor, that the fact it's incredibly healthy is almost beside the point. I like my puréed soup creamy and satisfying but without the cream, ya know? Enter my vegan butternut squash soup recipe. I use coconut milk for that satisfying richness and tons of warming spices to make this soup anything but boring.
Scroll on to see how it all comes together.
First, sauté the aromatics.
This soup recipe is incredibly simple. By now, I could pretty much make it with my eyes closed, which is fun because then I can riff on the OG version and throw in different ingredients based on what I have on hand. It all starts with a fragrant base of aromatics to give our soup tons of flavor. Get out your big dutch oven, warm a little olive oil in the bottom, then add chopped onion, minced garlic, and ginger.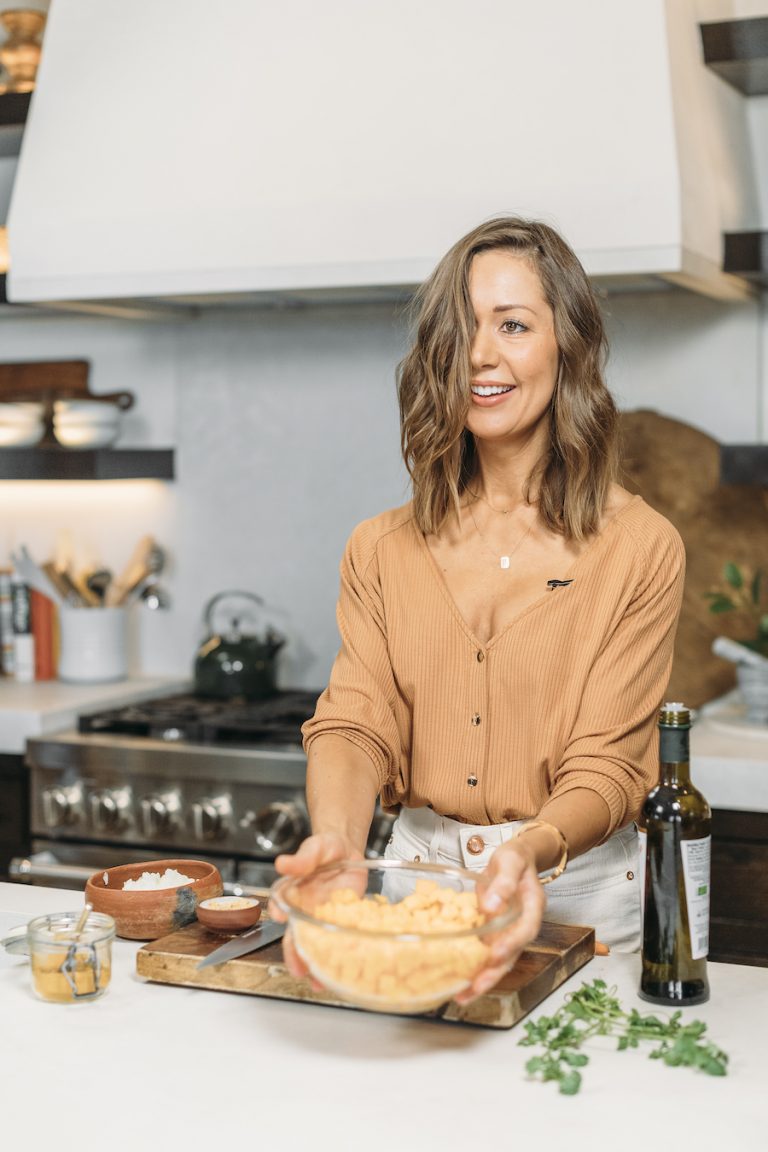 Add your root veggies.
When all of that is getting just a little golden and caramelized (it just takes a couple minutes of stirring around the pot), add cubed butternut squash and any other root veggies you like. Carrots, potatoes, sweet potato, or any winter squash is fair game. Stir it around, and when it starts to soften, add turmeric and salt, give it a stir, then add your broth, and crank up the heat. When it comes to a simmer, turn it down to medium-low, and let it all simmer away on the stove until your veggies are really soft and tender.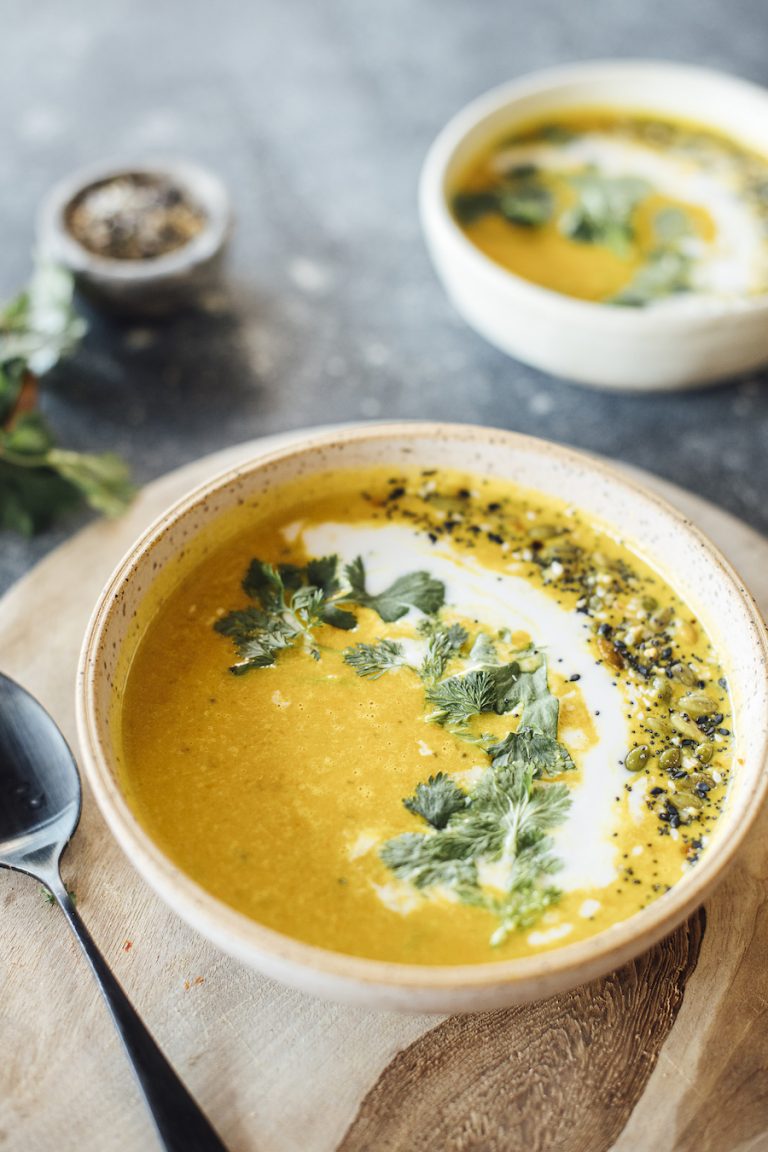 Blend it together.
To the blender, we add our soup, along with coconut milk, honey, coconut aminos, and the juice of an orange—YUM. Blend it up until smooth and remember that when you're blending hot ingredients, you may have to do it in smaller batches so that your vegan butternut squash soup doesn't explode all over your white shirt (like mine did during this shoot.) I like to use full fat coconut milk for optimal richness. The low-fat versions are just too watery to satisfy, and the fat from the coconut milk is what will keep you from wanting to dip your spoon into a gallon of ice cream after dinner (okay, I could never promise that, but what I'm saying is, some fat is good.)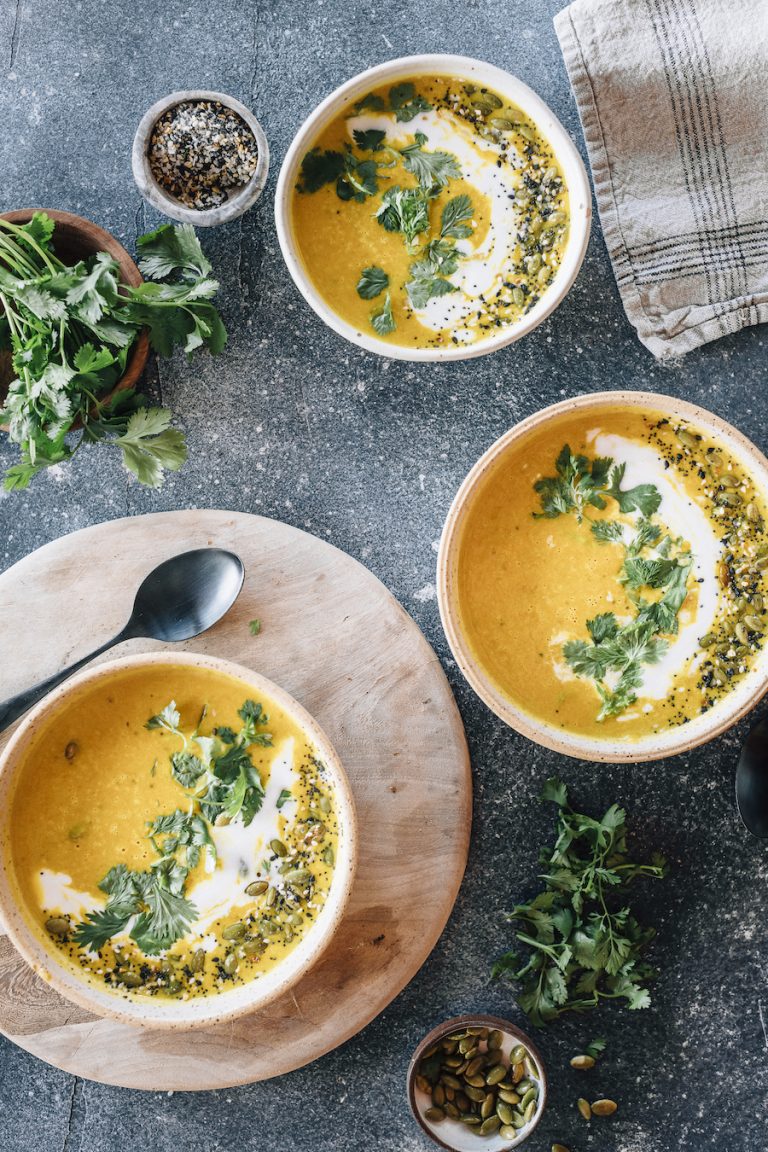 Serve your vegan butternut squash soup with all the toppings.
Like most comforting vegan soup recipes, the presentation is all in the garnishes. I top this one with toasted pumpkin seeds, fresh cilantro leaves, and another drizzle of coconut milk (styling tip: hold your spoon really close to the soup when you drizzle so it doesn't sink to the bottom.) Just before eating, give it a final taste, and add more salt if it needs more flavor. Then grab your spoon and devour.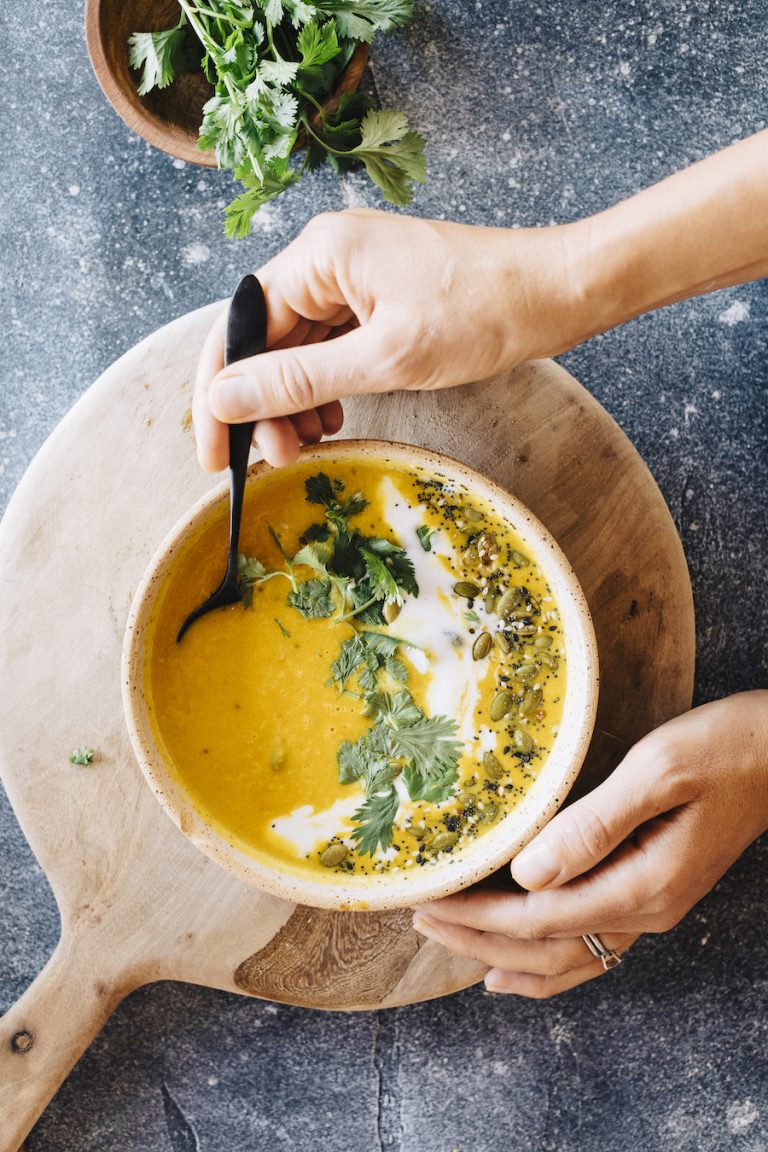 How to store leftovers?
Few things are better at leftovers than soup. Keep it in the fridge for up to a week, or transfer to a gallon-sized freezer bag, press out as much air as possible, and pop in the freezer for up to two months. Thaw and rewarm on the stove whenever you need an insta-cleanse. Day after Thanksgiving, we're ready for you.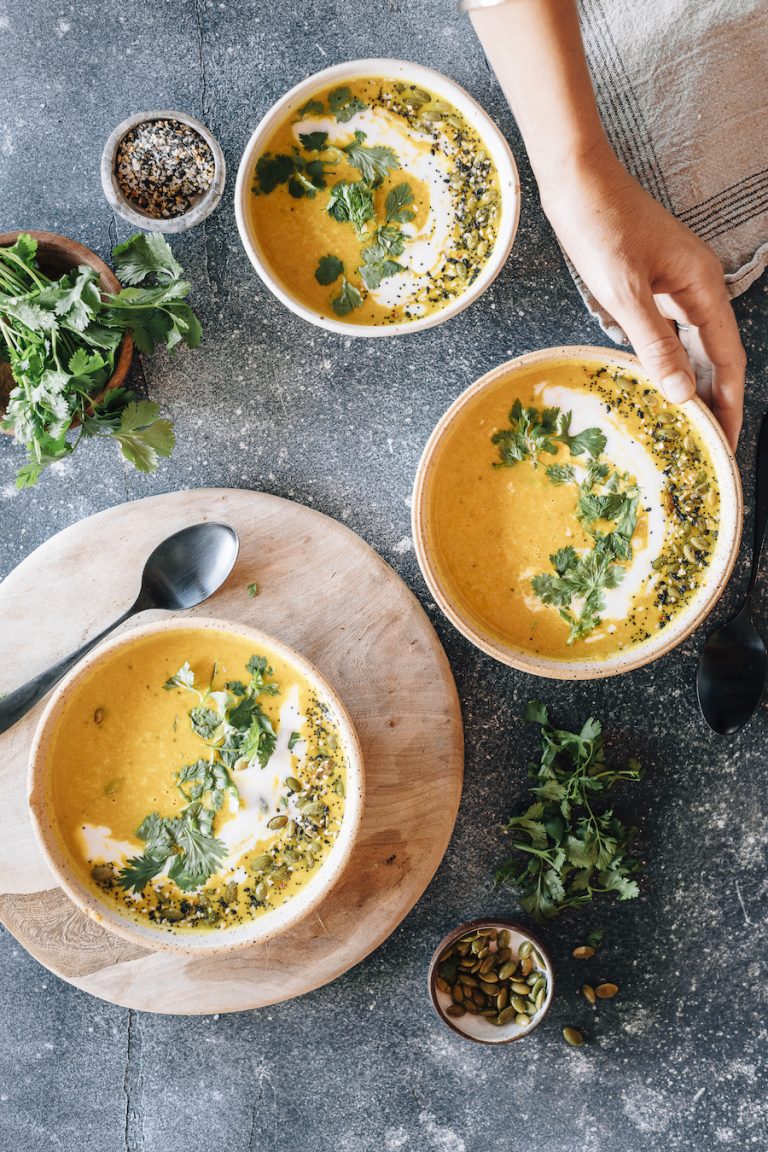 Scroll on for the recipe card, and if you make this, be sure to tag us @camillestyles on Instagram, leave a rating, and comment below!