[ad_1]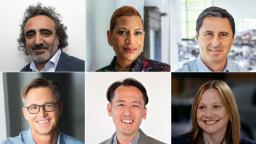 What are the biggest changes you have made to your workplace policies since the pandemic?
Like most manufacturers, we immediately instituted the basic Covid protocols, including mandatory masks, temperature taking, distancing workers on the line and case tracking.
In May 2020, when we surveyed our salaried employees worldwide, they told us they were confident we were taking the right steps regarding health and safety efforts. For those who were working virtually, the vast majority said they had quickly adapted to new ways of working and were feeling productive. They were finding virtual work to be largely a positive experience, and less than one-third said they were eager to get back to the office. This gave us a window of time to develop a more flexible work strategy reflecting "People + Technology" at the center of our operating model.
Our new hybrid work model has roughly one-third of office-based employees working in a Stanley Black & Decker physical location, one-third working fully virtual and one-third flexing their time between working on site and virtually. This provides more flexibility for when, where and how work gets done.
Among our initiatives:
• We're adding more open, collaborative individual workspaces and conference room space, plus phonebooth-style rooms for private calls. Our space will have far fewer enclosed cubicles and traditional closed-door offices, even for executives.
• We're adding immersive collaboration technology to make the experience as equitable as possible, regardless of where people are working. We'll bring virtual participants to the center of conference room tables instead of off to the side on a wall, for example.
What are some of the biggest hurdles you face as your employees either return to the office or embrace a new type of working model?
The pandemic has brought many challenges to people, personally and professionally.
We've improved our wellness offerings, including support for mental health, managing anxiety and stress, and helping parents with kids at home with homework assistance and resiliency programs, for example. We're doing everything we can to make sure we have benefits, tools and resources available as we navigate this next stage of the pandemic, especially equipping our leaders to have frequent, empathetic conversations with their team members to stay connected to their ongoing needs.
In addition to our improved wellness offerings, we created guiding principles that support our culture, across all of Stanley Black & Decker. These commitments are designed to support a culture of respect, inclusion, engagement and well-being for all. They include:
• Prioritizing our work – and providing flexibility for personal needs
• Acting with compassion
• Being sensitive to family situations
• Respecting our colleagues' time
• Taking care of our health and well-being
• Connecting and empathizing
What do you think the future of work will look like?
When people are empowered to follow a work style that suits their holistic needs, they are more engaged, higher performing and better connected to the organization's purpose. We strive to equip our people with the environment to make this happen.
Our hybrid model includes redesigning our space for enhanced and simultaneous collaboration with colleagues who may be sitting a few feet away or a few thousand miles away.
Employee expectations for work flexibility have shifted and grown. We believe our hybrid approach will allow us to maintain and embed the positive aspects of virtual work while staying focused on the strategic priorities that have made us successful.
In addition to the physical differences, with a smaller office footprint and hybrid model where not every employee is in the office or onsite daily, the future of work will look like a more caring and compassionate place where employee well-being is prioritized. We've been mindful of the pressure and challenges our people face, and we're committed to a culture of respect, inclusion, engagement and well-being for all.
Photo: Courtesy Stanley Black & Decker
[ad_2]

Source link