[ad_1]

After a year and a half of loving and living in sweats, I'm feeling a sudden internal shift towards a more pulled-together look. For the first time in a while, I find myself devouring fall trend reports and scrolling my favorite fashion sites as a welcome distraction in my workday. Maybe it's my internal desire for things to feel "back to normal" after this roller coaster of a year, or maybe it's just that planning my fall outfit ideas always gives me those "clean slate" feels.
So what are the fall 2021 shopping trends I'm leaning into as I start placing a few orders? In general, those that don't veer away from the idea of comfort (I am still working from my home office, after all) but that look cool enough to wear to a lunch date or on an important zoom meeting.
These days, it's more about how the clothes make me feel: supremely comfortable in my own skin, yet pulled together and with a personal point-of-view.
Scroll on for the pieces I've already added to cart this season, with my notes on the fall outfit ideas for 2021 that inspired my purchases. I divided them up by brand, since the ones below have nailed the exact items I'm already wearing on repeat this year. I'd love to hear how you're feeling about fall style in the comments: are you still loving #sweatslife, or feeling ready to turn things up?
AYR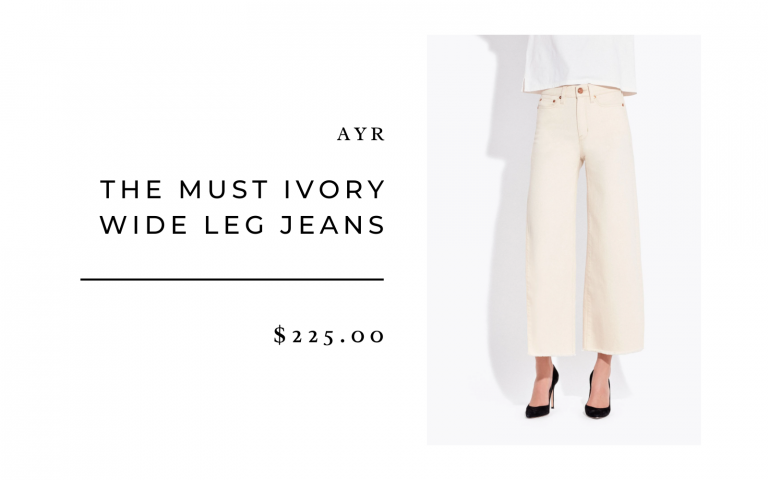 As one who's mostly shied away from wide leg jeans in the past out of fear they were unflattering, I've become a convert thanks to these beauties. The wash is soft, the rise is high, the vibe is strong. A MUST.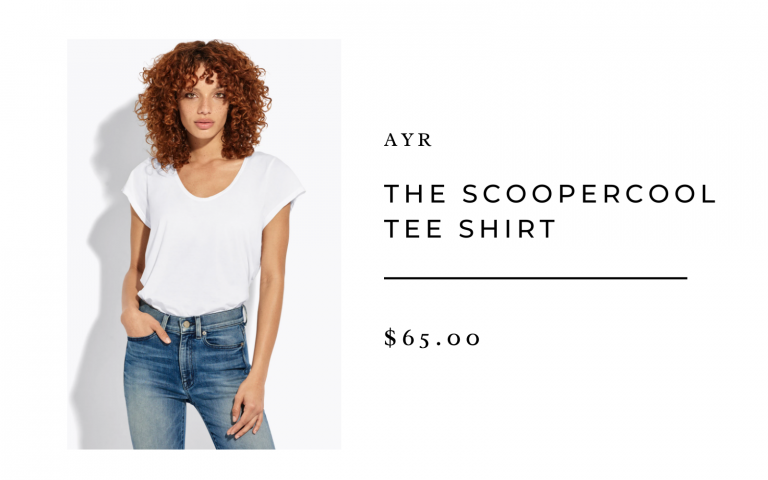 I know, I know… who needs another basic white tee? Turns out, we all do when it's as soft and flattering as this one. So far, I've worn mine tucked into jeans for a classic outfit that works for anything. Layers of delicate gold jewelry are a plus.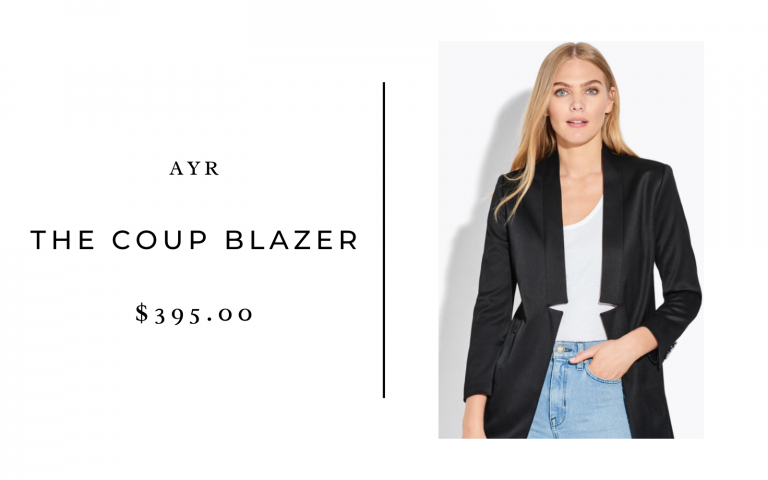 At first glance, this looks like your standard black blazer… but then you try it on and notice the luxurious fabric that drapes so flatteringly over every outfit, and the close cut that just makes you feel powerful without trying too hard. I've already been wearing mine w/ a pair of silky black shorts because I just can't wait for chillier temps to arrive.
CLARE V.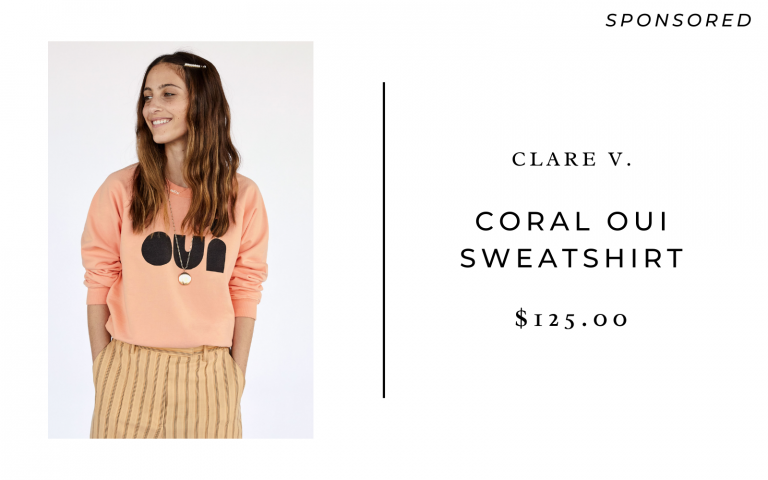 I challenge you to try to pull on this sweatshirt without smiling—impossible. And I know I said I was trying not to wear sweats quite so often this fall, but I make a firm exception to any of Clare V.'s much-cooler versions that are outfit-worthy. Pair with tailored pants or a full skirt for a casual-dressy mashup that feels so right for this fall, or go ahead and pair with your softest sweats for your next Zoom call. I won't tell.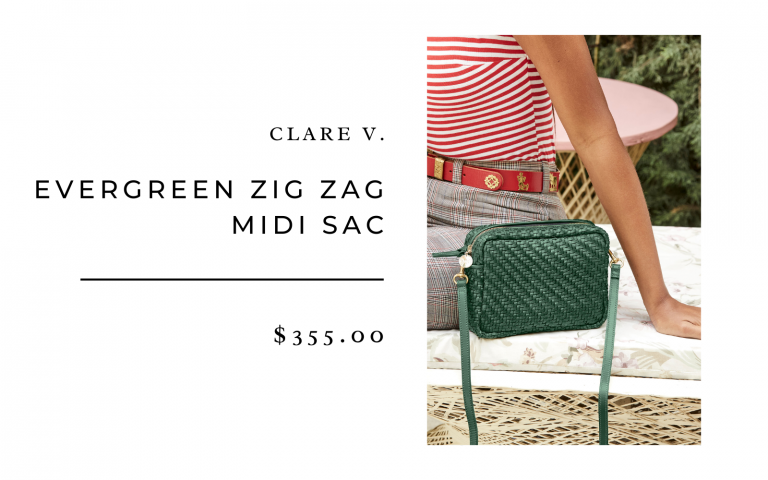 THIS BAG. All I can say is, "yes, yes, yes!" Something about it feels aligned with the season's 70's trends, and it's one of those rare bags that is equally at home with a going out look as it is with "coffee run in a baseball cap" vibes. Wear it crossbody, over the shoulder or as a top-handle by adding any of the cool bag strap options in the Clare V. collection.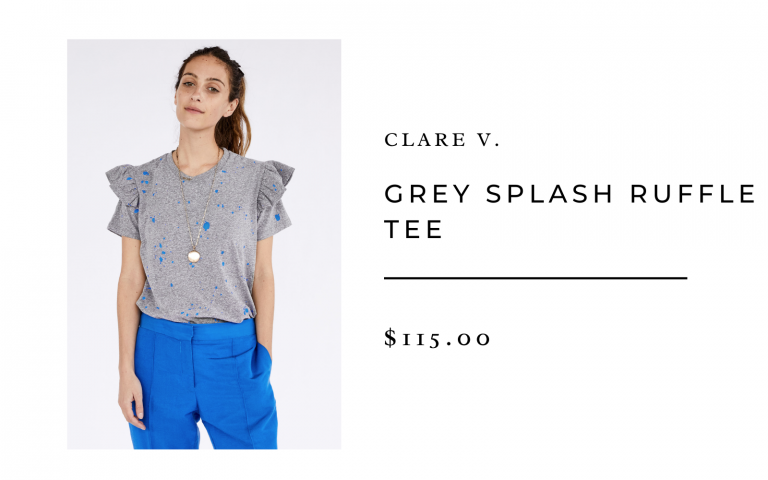 Remember that thing I said about marrying comfort and style this season? Well, nobody does it better than this little lady. She dresses up a well-fitted super soft tee with feminine, fun ruffles and a splatter paint print that screams "creative genius." This as major uniform potential for me.
MOTHER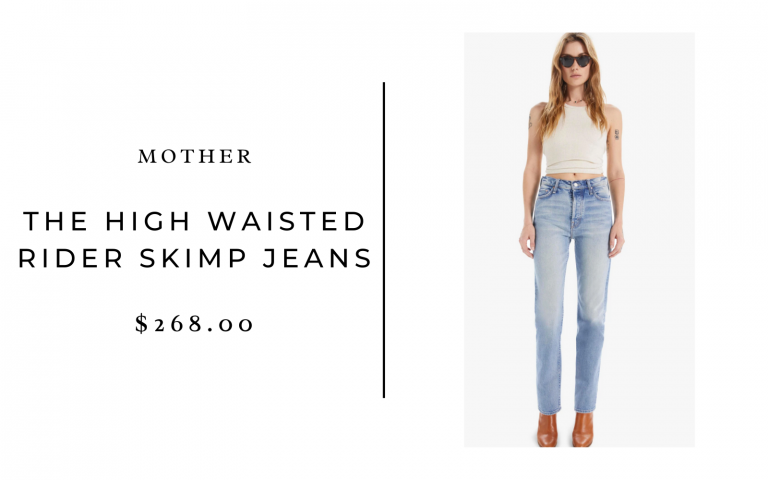 High-Waisted Rider Skimp Jeans
I'll be honest, these are a new fit for me and they feel a little outside my comfort zone—which I'm so ready for this fall! Denim is such a great place to mix things up and try out a new look with the changing seasons. This wash leans into the 90s trend and just feels cool, especially with a platform or heeled boot that'll keep these fashion forward, not frumpy.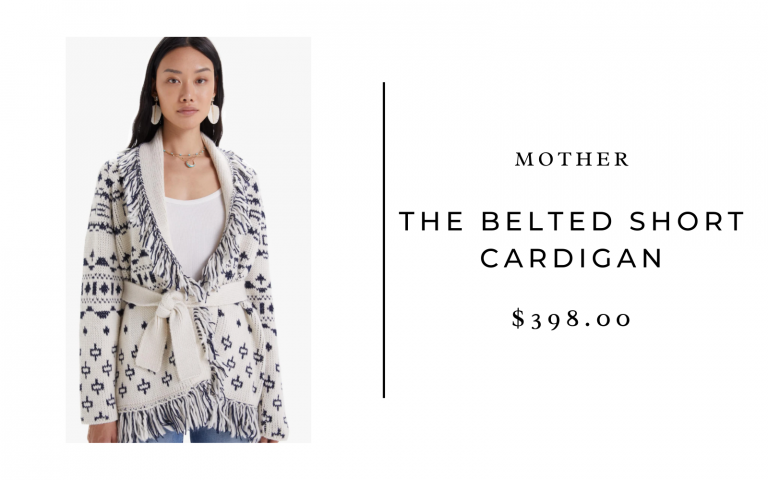 This mid-length cardigan is a pumpkin spice latté in sweater form. An oversized shawl collar makes it super cozy, while the belted waist pulls together the oversized fit so that your waist doesn't totally disappear. This is the super soft blanket I want to curl up in all day while I work but thankfully, it'll achieve my style goals while I'm at it.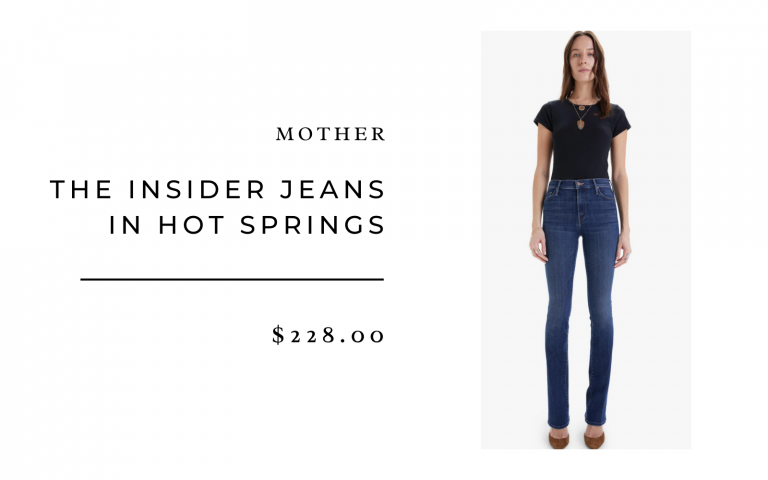 The Insider Jeans in Hot Springs
Tell me these are not the sexiest, most perfect jeans you've laid eyes on in awhile. When I tried them on in front of my full-length mirror, I couldn't help but feel myself in a major way. The subtle bootcut, high waist, and indigo stretch denim makes for a perfect fit and the appearance of legs for dayzzz.
NISOLO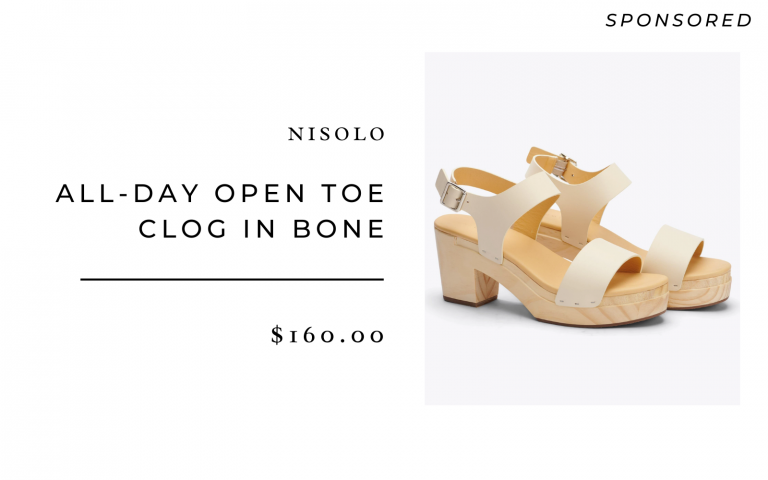 These clogs will (literally) elevate any outfit, but with a heel that's comfortable enough to not leave you wobbling. They're polished yet casual, and they may be as close to "high heels" as I get all season.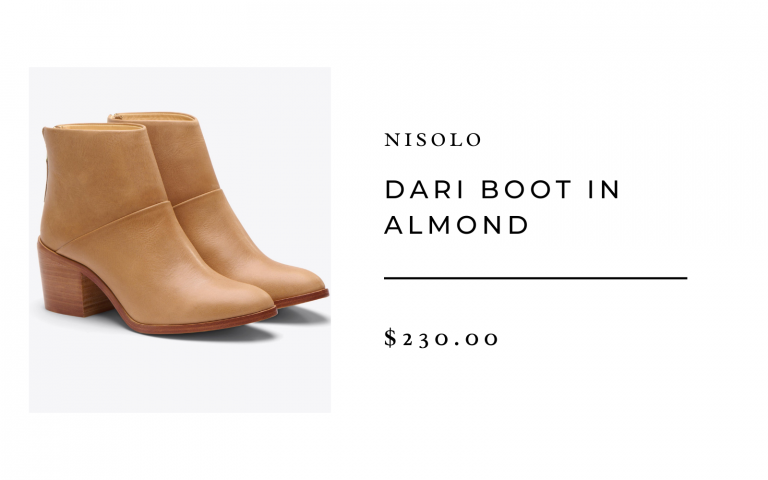 Can you say "closet staple?" The Dari is all you need and nothing you don't–sexy, effortless, and a real confidence booster, and I'm pretty obsessed with this neutral shade of "almond" that I'll pair with winter whites for a head-to-toe neutral 'fit.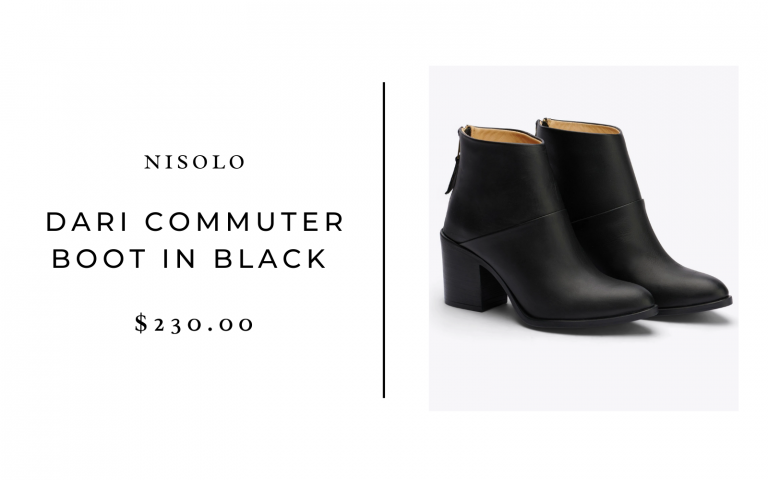 And since I also need a little black boot in my closet, why not stick with my favorite silhouette of the season? You know you love a boot when you've got it in two shades, and this pair works as well with a motorcycle jacket as it does with a flowy maxidress.
VUORI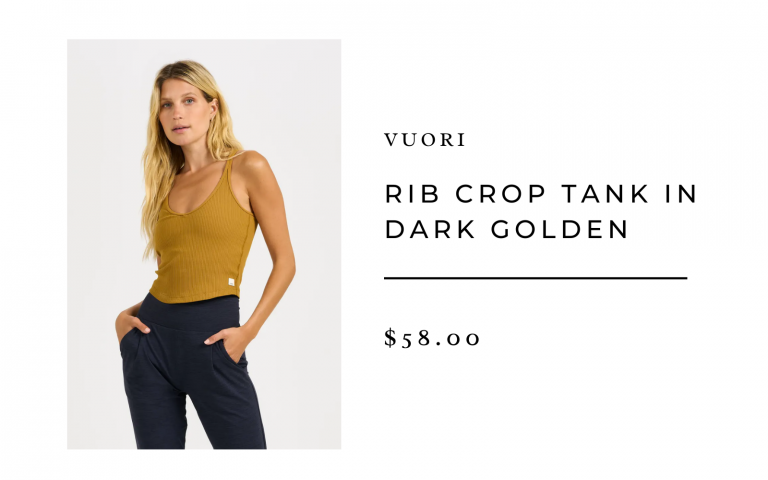 Some days, I just need a top that can take me seamlessly from workout to coffee meeting and Vuori's rib crop tank does so deliciously, especially in this mood-boosting shade of sunshine. I always have a hard time finding tanks that are truly flattering, and this stretch rib knit and built-in bra support makes me feel super confident and uber cute. I'll throw a jacket over the top as temps drop.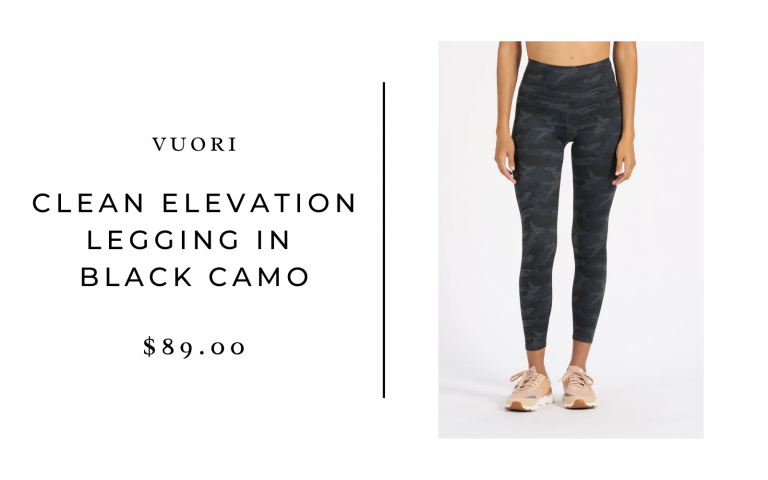 Clean Elevation Legging in Black Camo
Just when I thought I couldn't possibly need another pair of leggings, along comes this perfect pair that immediately took the top spot over any others in my closet. The high rise and streamlined fit make my legs feel impossibly long, and the softness of the material makes me never want to take these off. So I kinda don't.
FRANK & EILEEN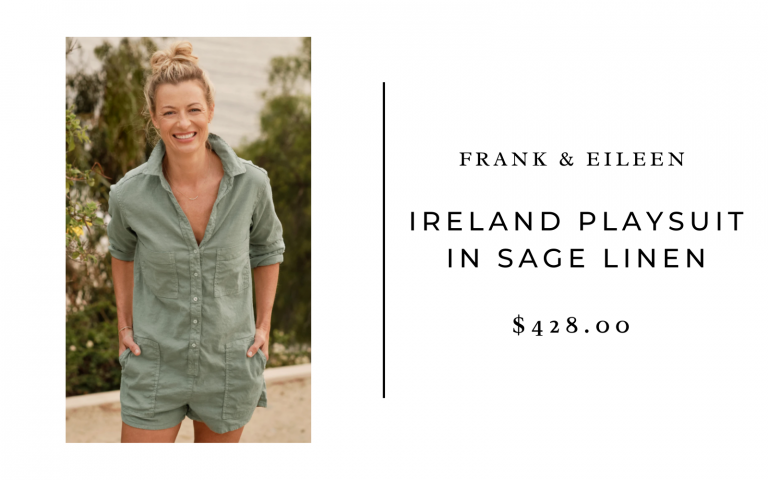 Ireland Playsuit in Sage Linen
Easy-to-roll sleeves, roomy pockets, a cool poppable collar, and relaxed fit. This long-sleeved romper is a one-and-done outfit on its own, and will transition seamlessly into fall with a jacket tossed over the top and a pair of shiny new sneakers.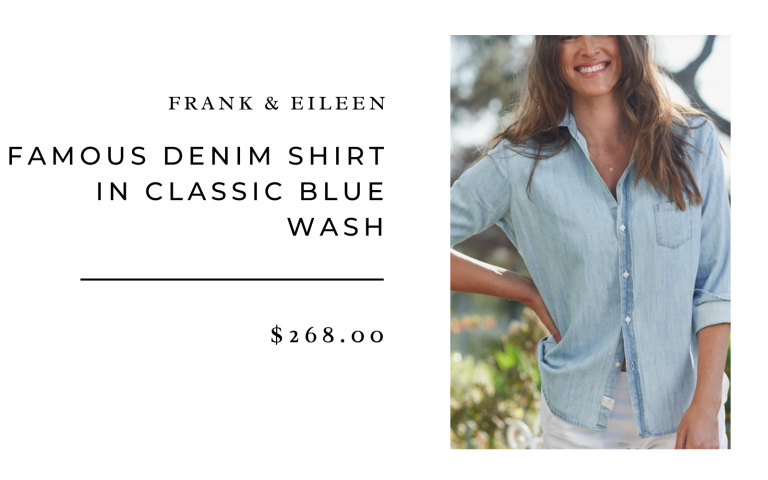 Famous Denim Shirt in Classic Blue Wash
I'll be honest, I didn't know I needed a denim shirt in my life until I spotted this one. There's just something about that faded blue wash and oversized fit that feels casual, effortless, and cool. I'm currently wearing mine knotted at the waist with a mini skirt, and as the seasons change, I'll tuck it into pants or throw it on as a light top layer over tanks.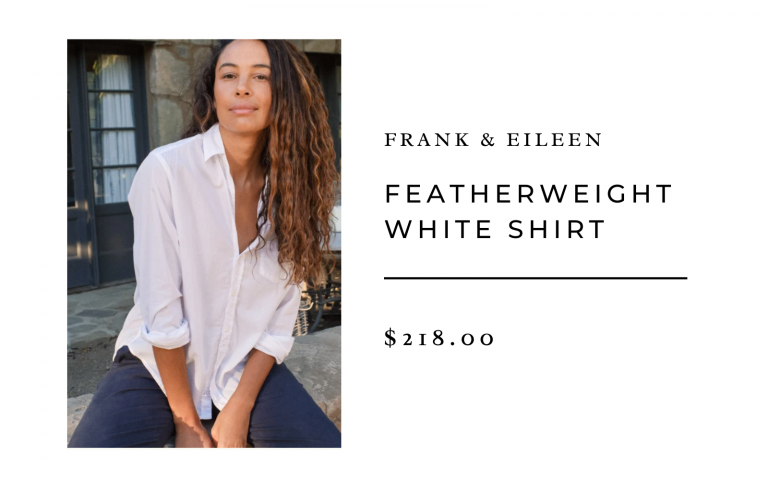 I have a bit of a white shirt problem (as in, I can't stop wearing them), but this season I'm just really feeling the relaxed yet polished vibes of Frank & Eileen's generously cut button-downs. There's something that feels very 90s supermodel when I throw mine on with a pair of relaxed jeans—especially when I leave a lot unbuttoned at the top. C'mon, live a little!
REFORMATION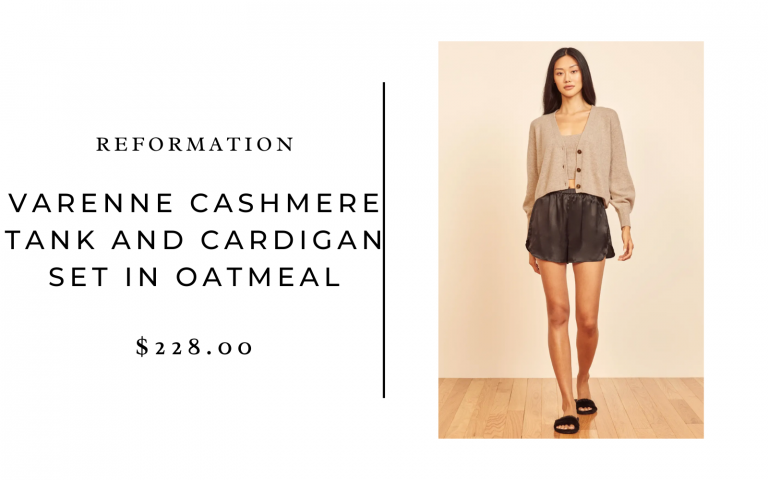 Varenne Cashmere Tank and Cardigan Set in Oatmeal
This sustainable cashmere set is a fitted tank paired with a boxy fitting cardigan. They obviously look great together, but I've already been disassembling and wearing them apart, too, for a less matchy look. It's soft as a cloud and oozes relaxed sophistication.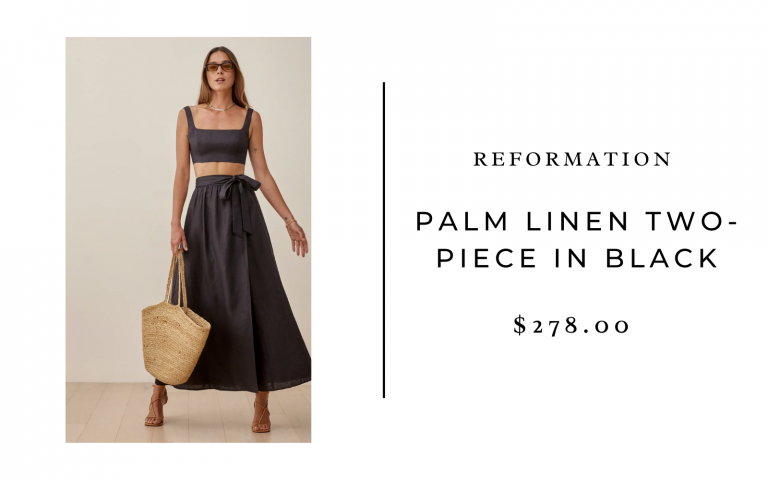 Yes, on one hand a linen crop top could feel v summery… but on the other hand, the fact that it's black with a skirt that goes to the floor brings this into acceptable fall outfit territory, IMHO. The main takeaway here is that it's supremely flattering, so I'll be wearing mind all year round with a cute little jacket over the top when it gets cold. Matching sets are a summer trend that I'm firmly voting we keep around for the fall. What do you think?
[ad_2]

Source link