[ad_1]

One morning last week, I got up before sunrise and tiptoed out to the back patio with my journal and pen. There's no better time to get organized than when the weather starts to shift. Cooler temps and quiet mornings have inspired me to spend some time thinking about those things that I want to make sure our family does this fall before the craziness of the holidays kicks in. It's time to dust of the fall bucket list!
You know, the apple cider/jumping in leaves/hay rides kind of things that never get old or cheesy because they're just so darn awesome.
I want to be building those memories for our family, but as I'm sure any fellow parent out there can attest: it takes major planning and intention to make sure they actually happen. It's not always easy, between the school, work, sports, and busy schedules that can so easily take over our lives.
My solution that works just as well for summer, spring, and the holiday season as it does for fall? A weekend bucket list. When the bliss of a free weekend stretches before us, instead of whiling it away just hanging out or watching movies (though there's nothing wrong with that once in a while), we can seize the day and have an adventure in our hometown. Hopefully, by the time Thanksgiving rolls around, we'll be feeling like this guy and walking around with all the cozy feels.
Scroll on for what's on our family fall bucket list this year, and I'd love to hear in the comments what fun fall things you guys are planning!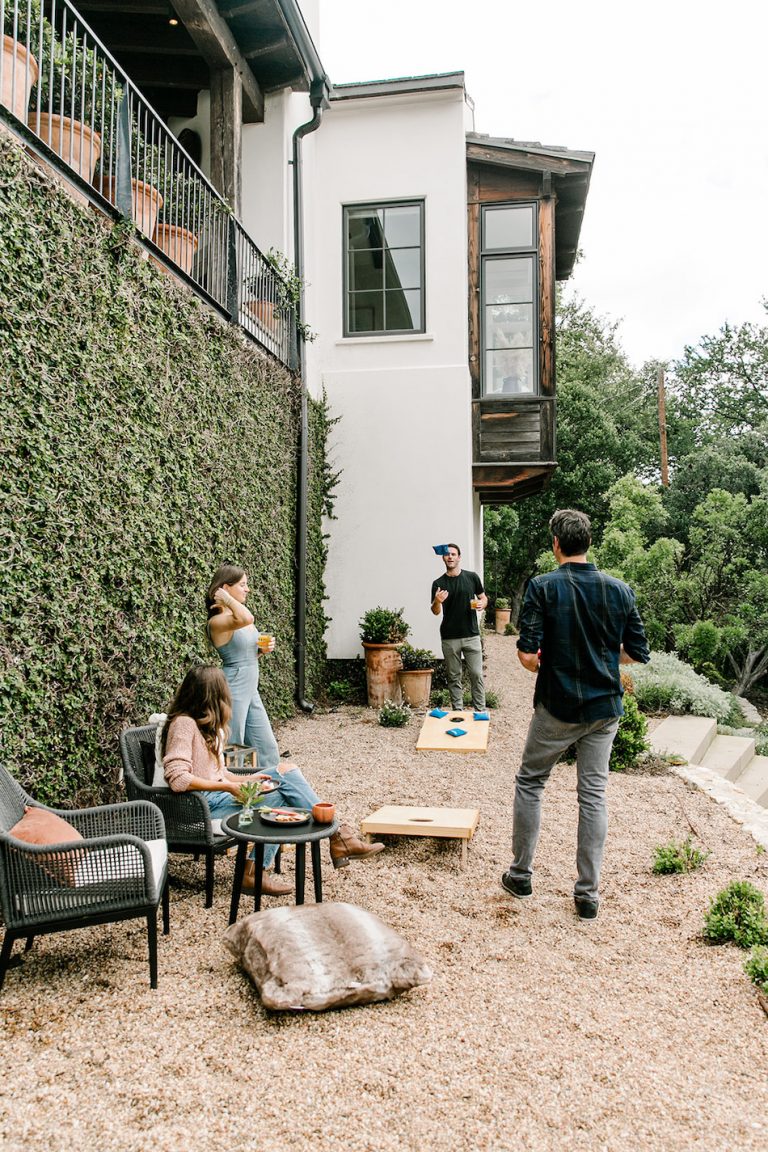 Visit a pumpkin patch and corn maze.
Get lost in the corn maze, take home pumpkins from the pumpkin patch, play corn hole, snack on kettle corn, and take lots of adorable photos. It's a quintessential fall bucket list activity that can rarely be topped. It's worth it! Just be sure to wait until late October when things have cooled down a bit so we don't all get cranky spending hours in a cornfield.
Check out a local cidery or winery
Most are kid-friendly, and you can enjoy an afternoon spent sipping on delicious local brews. Fall is the harvest season, so it's the perfect time to get a look at a gorgeous vineyard. Can't make it to the countryside? Find a tasting room near you.
Take an evening stroll to collect leaves.
Then press them and put them into a photo album to always remember your fall bucket list. Even though we take loads of morning walks as a family, my kids think there's something really novel and fun about going for an evening stroll around the neighborhood. Every once in a while when it's usually time to get ready for bed, we instead tell everyone to put on their sneakers—and the excitement is next-level.
As soon as the leaves turn this year, we'll take an evening walk where we take time to reflect on the beauty of the season by collecting pretty leaves and acorns as we go. The next day, we'll use our little flower press to preserve them, and later we can put them in a photo album along with photos from the season to mark this fall as one for the books.
Rake up crunchy leaves then dive in.
Turns out, it just doesn't get old.
Carve pumpkins with grandparents.
In the past, our pumpkin carving has been kind of a last-minute attempt—and honestly felt like kind of a pain. As a kid, I never really appreciated what a major task carving a big pumpkin can be until I grew up and had to do it myself! This year, I want to set aside an evening and invite my parents to join us for pumpkin carving as the main event. I'll roast the seeds for snacking on, and we can take time to relax and enjoy the process. Fingers crossed I can delegate the actual carving to someone else (thanks Dad!) Otherwise, I may just have to resort to decorating our pumpkins with this.
Volunteer at a local animal shelter or sanctuary.
The cooler weather makes it the perfect time to enjoy outdoor activities. Walking dogs that are in need of homes or helping out on a local farm sanctuary is a great way to instill the importance of community service in kids that also happens to be incredibly fun.
Take a road trip to a small town.
I have this fall fantasy of climbing into the car, turning up the radio, and driving down country roads with dappled sunlight filtering through turning leaves. We haven't done a real road trip with the kids yet, and this season feels like the perfect time to make the most of a weekend and explore a small town for hiking, antique hunting, and maybe we'll even hit up a winery. I'd love to hear in the comments if y'all have any favorite towns to visit!
Cook a meal using your favorite fall ingredients.
Fill your kitchen with the scents of the season. Pick up some seasonal produce at your local market and whip up a warming, delicious, comforting dish that everyone is sure to love.
Host a Soup & Wine Sunday.
Pretty much exactly what it sounds like, I'll invite a few friends to come over on a Sunday evening for a big pot of soup, crusty loaf of sourdough, and a good bottle of Pinot. Entertaining doesn't get much easier (or cozier) than that.
Browse all my favorite soup recipes right here.
Pick up a new book to enjoy this season.
Whether you love memoirs or are looking to lose yourself in one of the best new novels of the year, few things are better than cracking open a book by a roaring fire.
Family game night.
Add a deck of cards, Jenga, a new puzzle, and a big pot of apple cider (oh, and popcorn) to your fall bucket list. Family game night, sorted. Also mandatory: this candle. Yum!
Treat yourself to a new fall sweater.
Few things are as cozy and warm as a delightful new fall sweater to traipse around town in. While you're at it, stroll around your neighborhood shops and enjoy the crispy weather. Are you a wool or cashmere kind of person? I'm a little bit of both.
Pumpkin bread decorating with friends and kids.
Who on earth doesn't love a fresh-from-the-oven loaf of pumpkin bread? If that person exists, I don't want to know them (just kidding!!!) Instead of making and gifting all my friends loaves this year, I'll invite them to come over one Saturday with their littles for a baking afternoon. I'll bake the loaves in advance using this pan (is it not the cutest thing you've ever seen?!), then give everyone little bags of cream cheese frosting so they can decorate their own to take home.
Watch a classic fall movie.
Curl up with your cuties and throw on one of your old faves: You've Got Mail, Coco, and more are at the top of our list!
Visit a local museum of natural history.
Check out the new exhibitions, revisit beloved old favorites, and enjoy an afternoon spent soaking up some knowledge.
I'd love to hear in the comments what fun fall things y'all have on your lists this year!
This post was originally published on September 30, 2019, and has since been updated.
[ad_2]

Source link