[ad_1]

Zucchini Cheddar Scones are the perfect savory scone recipe. Similar to a flaky biscuit, tender on the inside, and buttery and crisp on the outside, filled with zucchini and cheddar cheese! Absolutely perfect for a BBQ side dish, or even as a snack with butter and a drizzle of honey!
Don't forget to try my Banana Scones and Pumpkin Scones too…both recipes are AMAZING!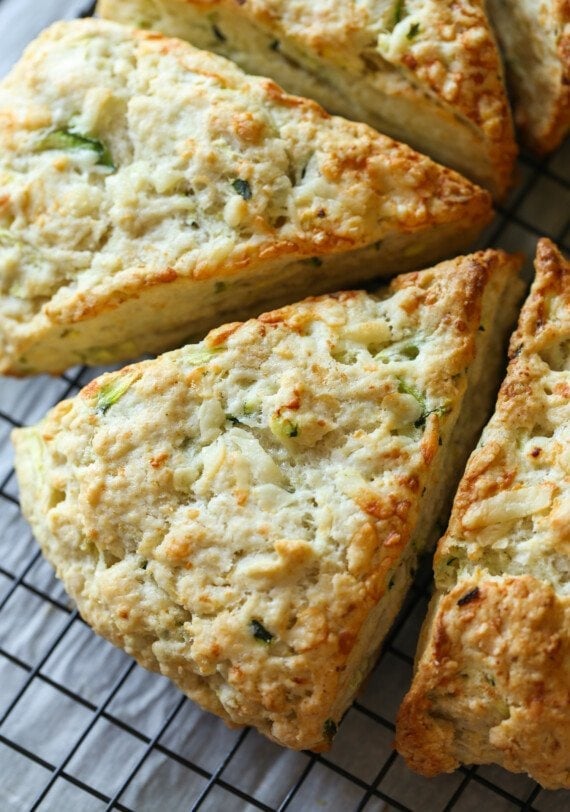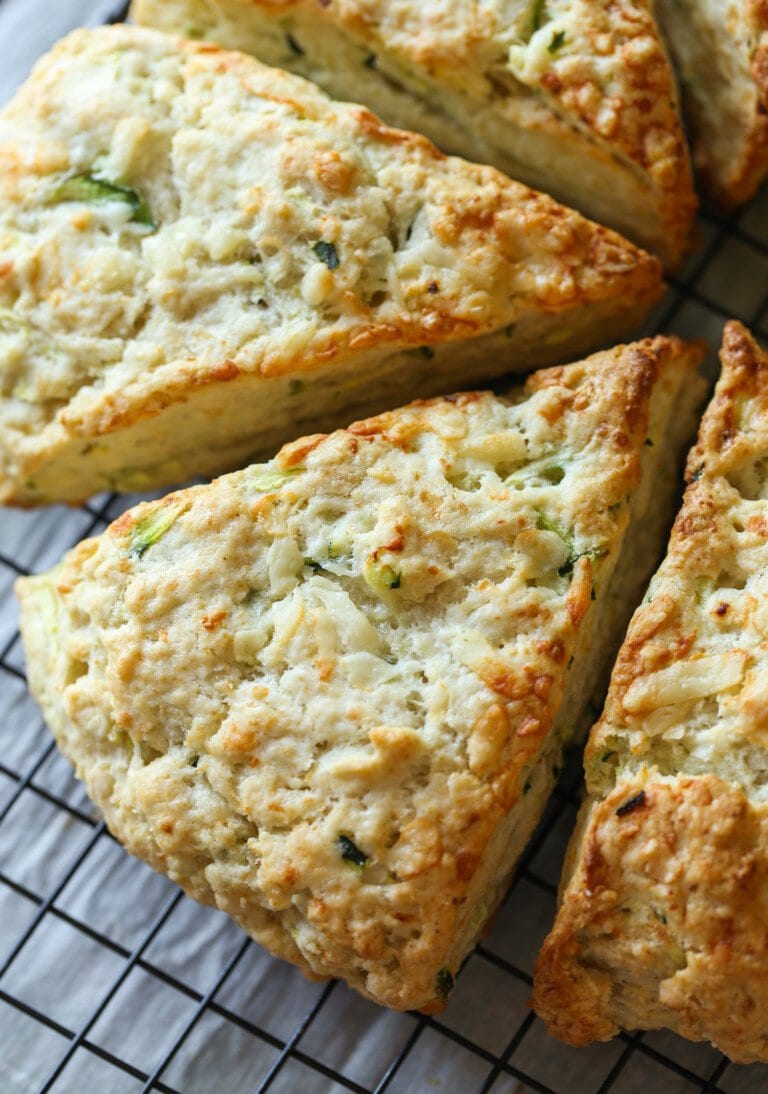 Zucchini Cheddar Scones Are A SUPER Easy Savory Scone Recipe!
If you're looking for something a little different as a side dish, this is it!! Savory scones are absolutely a thing! Don't get me wrong, I love a sweet scone…my Chocolate Chunk Orange Scones are absolutely killer, but a savory version is unexpected, but equally delicious! Think of it like an elevated biscuit. Honestly they're just as easy as biscuits, but somehow seem fancier. The flaky, tender center and the crisp, buttery edges are the perfect pairing to just about any dinner!
Use Up Summer Zucchini In These EASY Zucchini Scones!
If you have a garden and grow zucchini…or a neighbor with a garden that grows zucchini…you KNOW there's a point in the summer when you have so many squash you don't know what to do with! There are tons of fun ways to use up zucchini, but adding it into a scone? Totally genius! You don't taste the zucchini in these, but it does add to the moistness of the scone, while adding pretty green flecks throughout. Paired with the sharp cheddar, these zucchini scones are a dream…a lot like Cheddar Bay Biscuits from Red Lobster!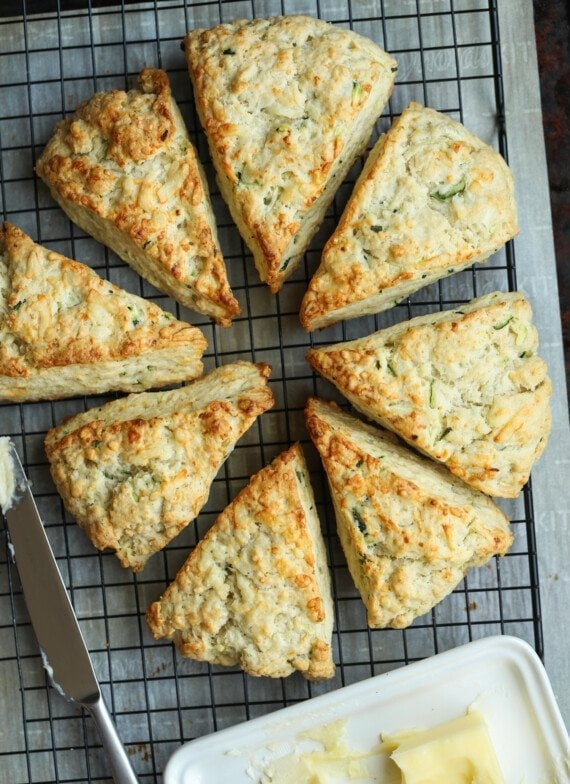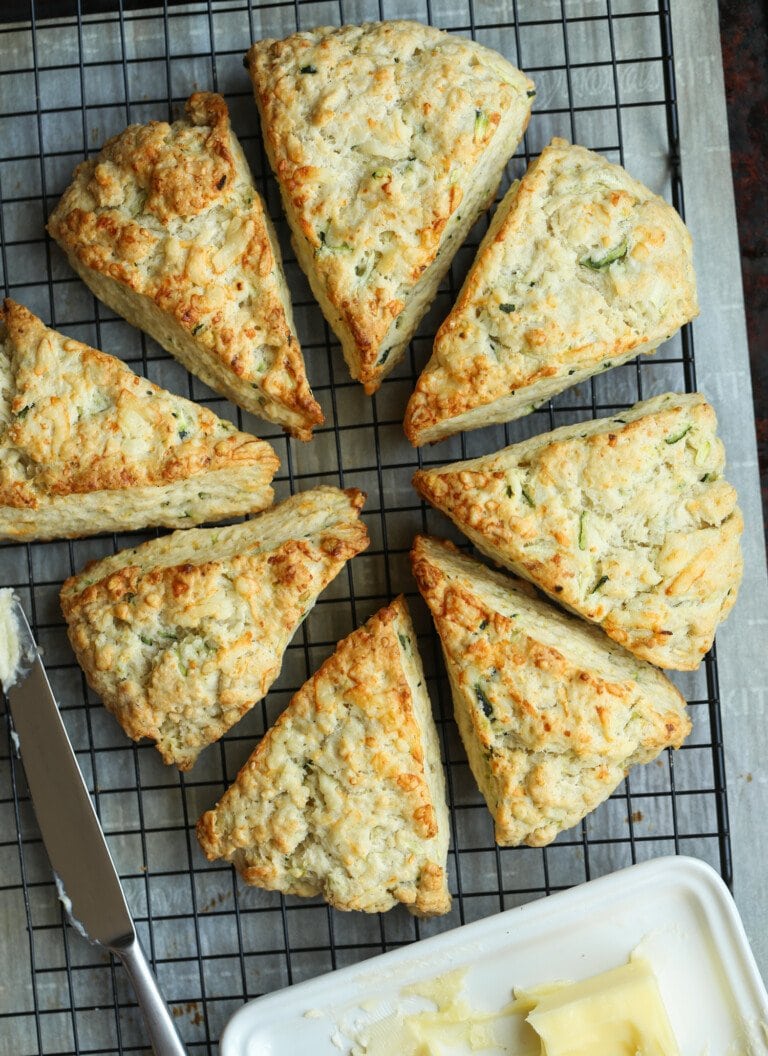 Looking For More Ways To Use Up Zucchini?
What To Expect When Making Zucchini Scones:
A simple recipe done in about 30 minutes!
Buttery, tender interior with a crisp, buttery exterior.
Easy to make!
No mixer needed.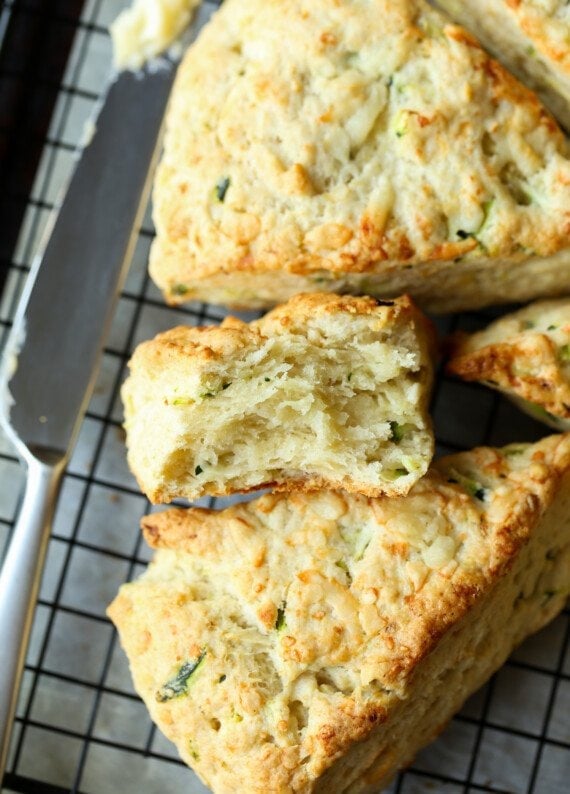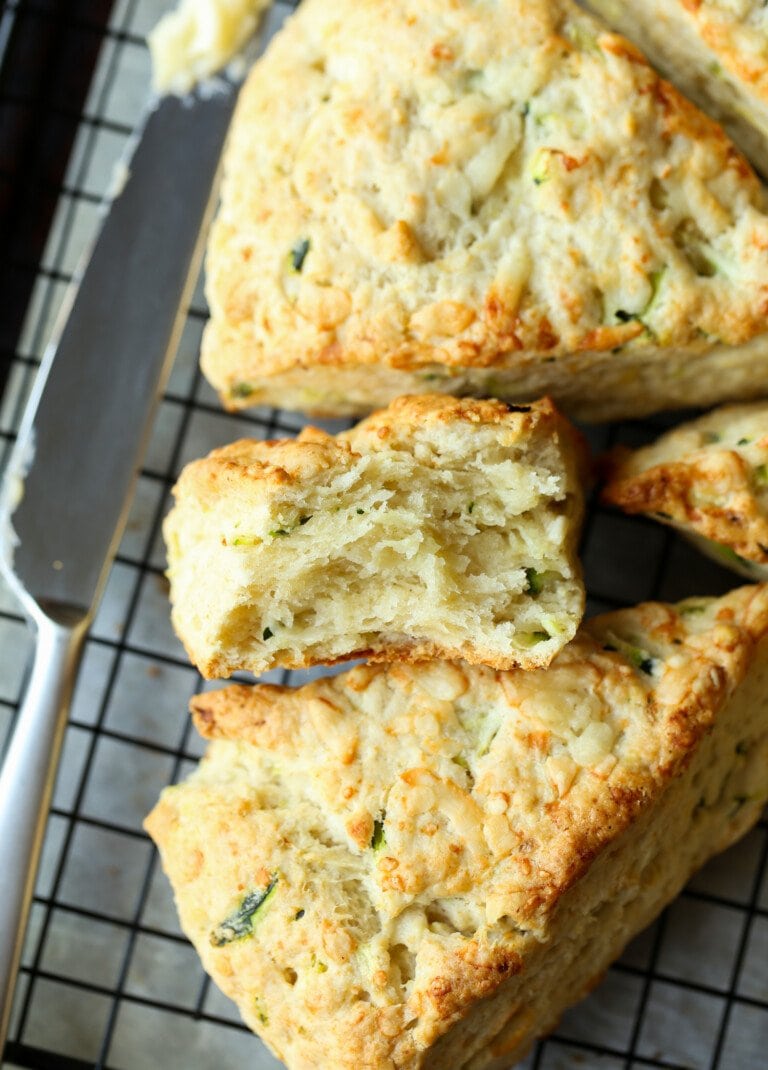 Are Scones the Same As Biscuits?
Well they are definitely similar, but they aren't exactly the same! Biscuits should be layered and light on the inside, and a scone is tender, but a bit more dense. There isn't a huge difference in making scones and biscuits, but there is a difference in texture. AND you could even cut your scones using a biscuit cutter if you prefer that instead of wedges.
Ingredients:
all purpose flour
baking powder
kosher salt
cold butter
grated zucchini
grated sharp cheddar cheese
cold heavy cream
Tools Needed:
I'm including a list of the tools and a few affiliate links to the exact ones I use in case you are interested!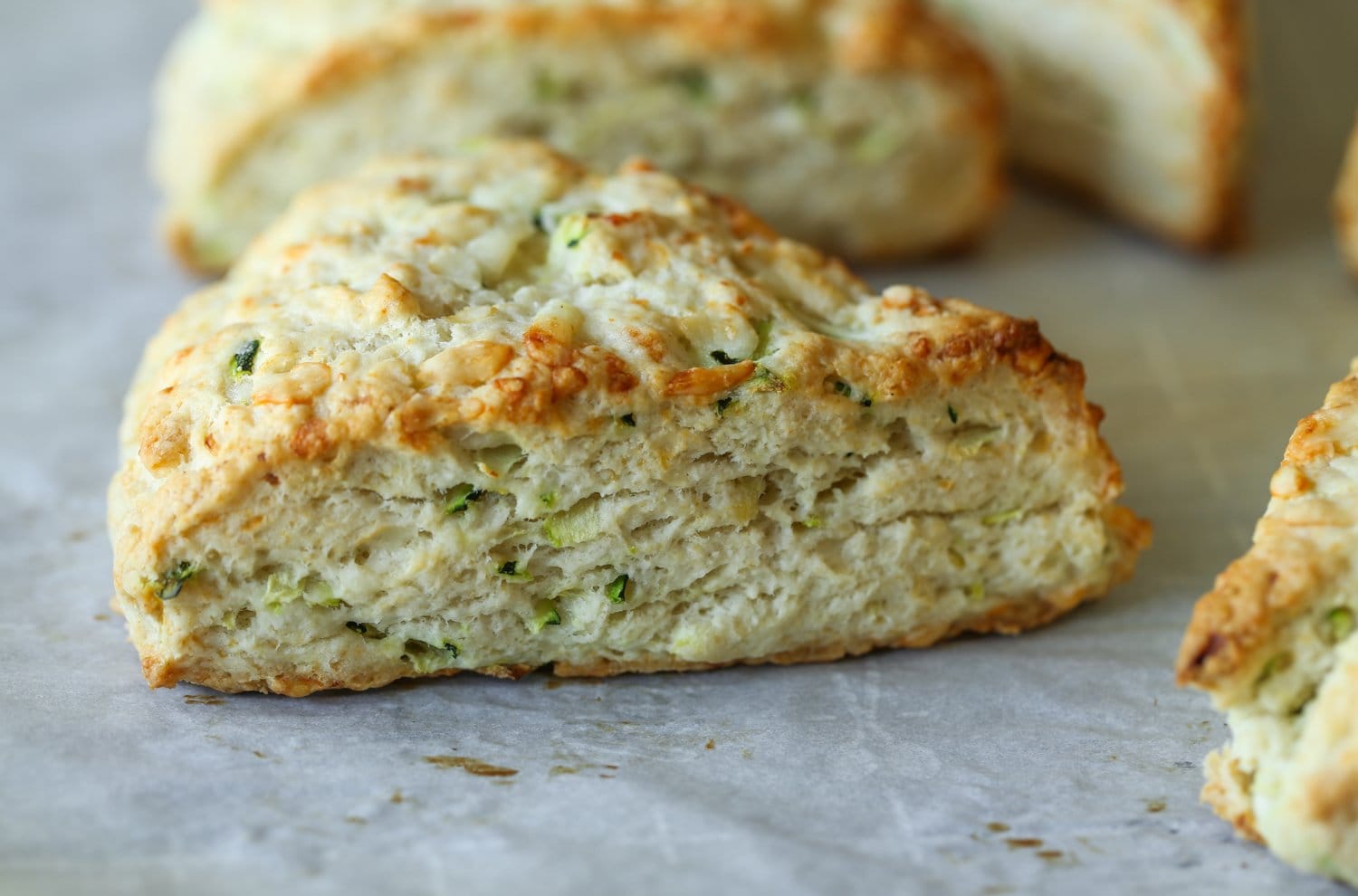 Tips and Tricks:
Make sure your butter and cream are cold! The butter needs to be cold so it doesn't melt into the dough. The little bits of butter in the dough are what make your scone flaky! You want those layers! Keeping the cream cold ensures that the butter doesn't melt as you're mixing it!
Don't worry about peeling the zucchini! The skin isn't tough, and adds pretty green flecks. Just grate it, skin and all!
Use sharp cheddar for a real pop of flavor. If you really don't like sharp cheddar you can use a mild and it will still work.
Handle the dough as little as possible once you get it mixed. Again, it's about that butter staying as cold as possible creating those flaky layers!
If the dough seems too dry, you can add in a splash or two more heavy cream, but you don't want a "wet dough". You want it to be dry, but still hold together when formed into a ball. If it doesn't hold together just add a little cream at a time until it does!
Mix It Up!
You can get creative with this recipes, adding flavors and mixing it up! Here are a few ideas:
Add 1/4 teaspoon garlic powder!
Add 1/2 – 1 teaspoon of Old Bay to get that Cheddar Bay Biscuit vibe.
Add in 1/4 cup granulated sugar if you want to make these sweet!
Play around with different cheeses. Gruyere would be delicious!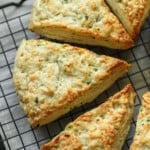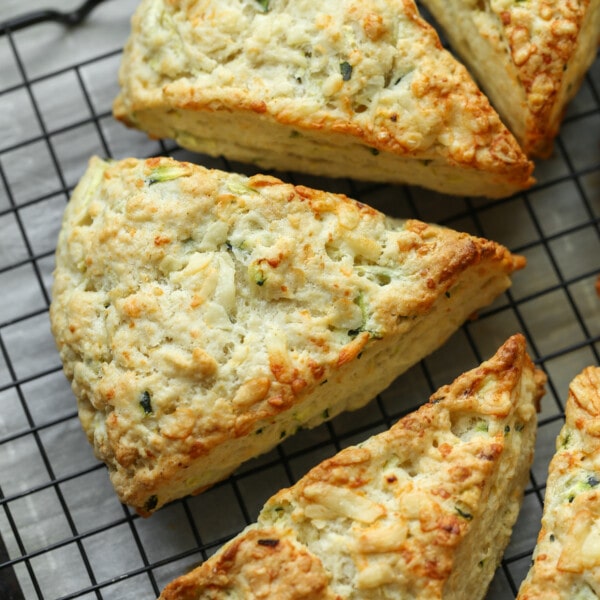 ---
Description:
These Savory Zucchini Cheddar Scones are a fun twist on a classic and a great way to use zucchini!!
---
Ingredients:
2 1/2 cups

all purpose flour

2 teaspoons

baking powder

1/2 teaspoon

kosher salt

1/2 cup

cold butter, diced

1 cup

grated zucchini

3/4 cup

grated sharp cheddar cheese

1 cup

, plus 2 tablespoons cold heavy cream, divided
---
Instructions
Preheat oven to 425°F. Line a large baking sheet with parchment paper. Set aside.
In a large bowl whisk together the flour, baking powder, and salt. Using a pastry cutter or fork cut the butter into the flour mixture until it resembles coarse sand.
Stir in the zucchini and cheddar cheese until combined. Pour in 1 cup of the heavy cream and stir to combine. The dough will be dry. Once the heavy cream is mixed in, use your hands to knead the dough until it holds together. (If it is too crumbly and doesn't hold together add in 1 – 2 more tablespoons of heavy cream and knead.)
Form the dough into a ball and place onto a lightly floured surface. Flatten the dough into a circle, about 1- inch in thickness. Brush the remaining 2 tablespoons of heavy cream on top of the dough.
Using a pizza cutter or knife, cut the circle into 8 equal wedges and place onto the prepared baking sheet.
Bake for 18 – 20 minutes until golden brown.
Serve warm or at room temperature.
---
Notes:
Store airtight for up to 3 days at room temperature. Freeze airtight for up to 30 days.
Keywords:: scones, savory scones, zucchini recipe, zucchini scones, scone recipe, cookies and cups
Want To Save This Recipe?
PIN for later: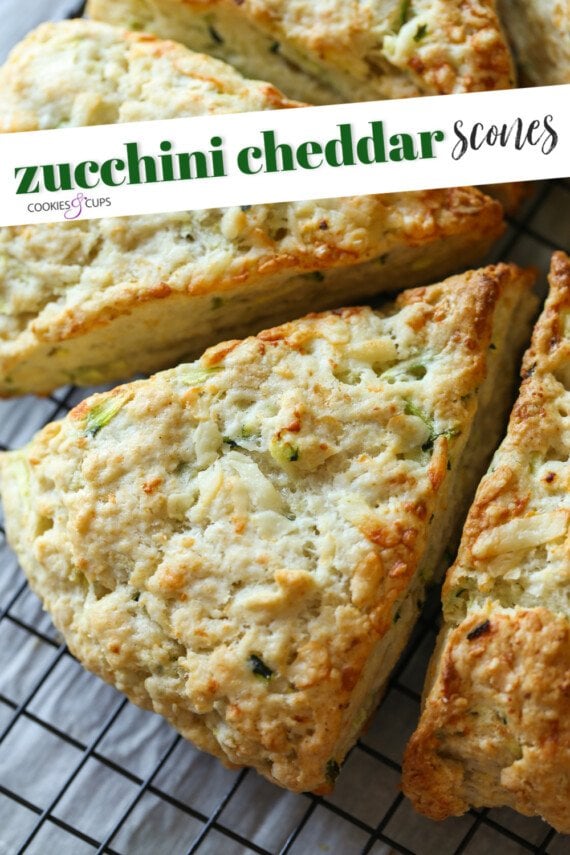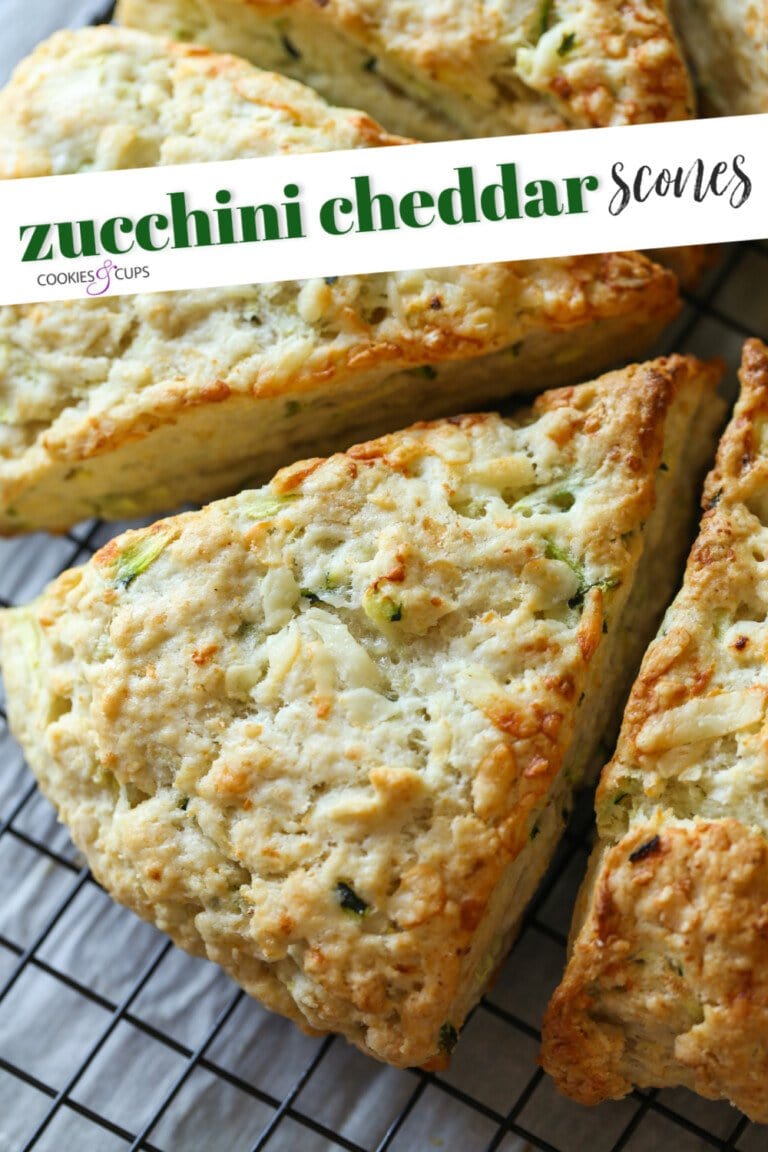 [ad_2]

Source link